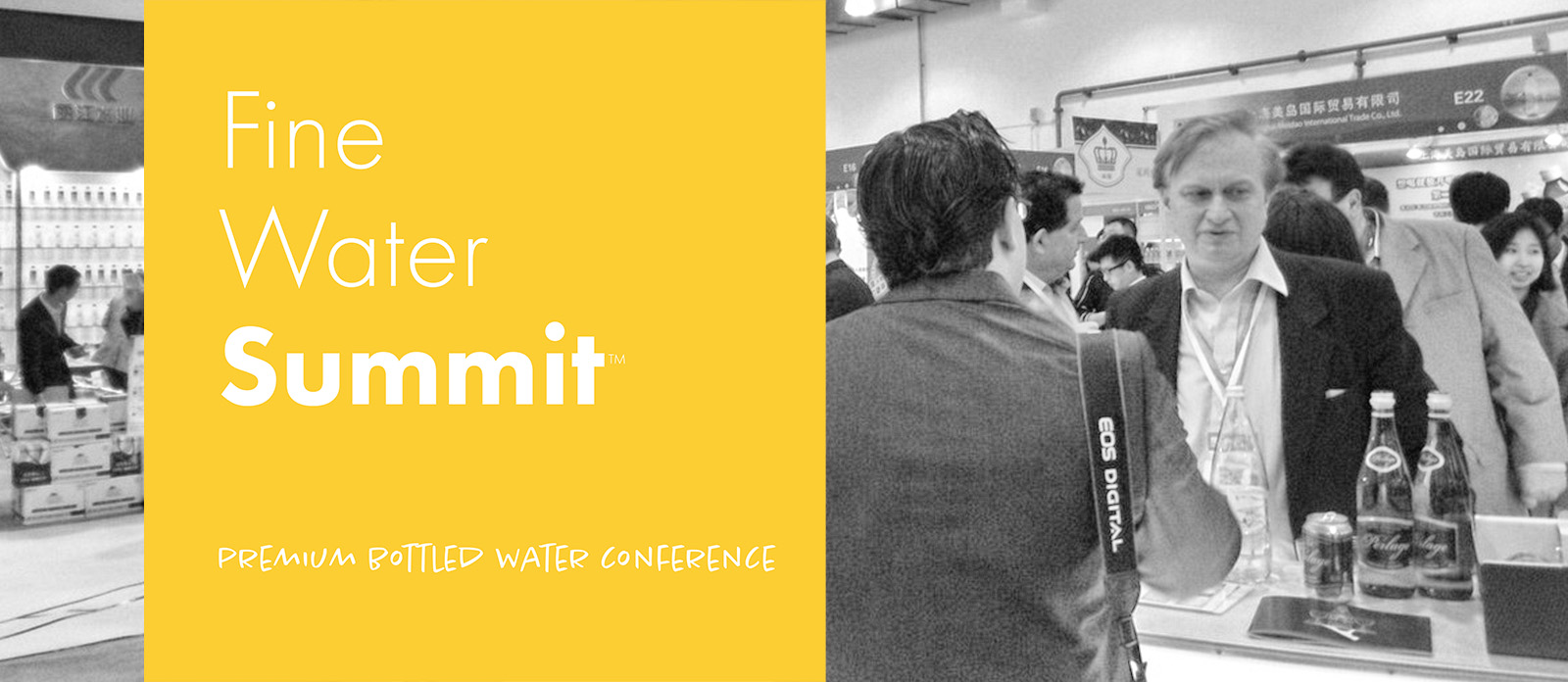 The 2013 FineWaters Summit & Pavilion was held in Shanghai from April 22 - 27 with around 60 participants representing 24 premium bottled water brands from around the world and included domestic Chinese and international portfolio distributors as well as industry experts and observers. The strong interest in the Shanghai Summit & Pavilion was fueled by the growth and performance of the Chinese market and the adoption of premium bottled water as a luxury category.
The Summit (conference) focused on three topics covered by a total of 15 speakers :
China
China as a very desirable and exciting but also a very difficult market with many cultural, logistic and legal obstacles for establishing successful distribution and brands. Expert presenters with local knowledge addressed the main issues facing brands wanting to establish distribution in China and build brands in Asia.
The "Category"
A portfolio approach and the rapidly evolving definition of the Fine Water category started the migration to a Fine Water Category segmentation from the crowded premium category.
Epicurean Context of Premium Water
A series of presentations, tastings, and workshops further established the epicurean context of premium water, turning "water into wine".
The Summit also saw the launch of a dedicated high-end water glass designed by Michael Mascha from FineWaters and expertly executed by Rogaska Glassworks of Slovenia. The new "FineWaters Glass by Rogaska" is a hand-blown lead-free crystal glass of impressive presence on the table and provides visibility and etiquette to the consumption of Fine Waters at the table. The glass will be available shortly in China and in the summer everywhere else through www.finewaters.com.
To make the trip to Shanghai as efficient as possible, the Summit was followed by a FineWaters Pavilion (April 25th - 27th). The Pavilion concept was tested successfully in New York in 2007/8/9 and was now moved as a "Portfolio Category Exhibition" to Shanghai. All participating brands joint forces at a custom-designed large booth at the CBW showcasing the category with all the participating bottled water brands in one location. The Pavilion provided a unique opportunity to support the development of the market in China by showcasing that "water is not water" and that there is no such a thing as a "best water"but that water has expresses terroir and is unique. The Pavilion communicated that there is an enthusiastic group of producers/distributors that wants to tell the story of their waters as part of a Fine Water category.
For further information on the Summit & Pavilion in Shanghai 2013 please visit www.finewaters.com where you can find the full program, images of the Summit & Pavilion as well as a selected group of presentations given at the Summit.
Participants
Premium Bottled Water from Canada
Company: DE L'AUBIER
Site: www.delaubier.ca
Phone: +1 514 919 3328
Email:
This email address is being protected from spambots. You need JavaScript enabled to view it.
Etrusca
Premium Bottled Water from Italy
Company: Seven Lines
Website: www.acquaetrusca.com
Phone: +39 010 9868933
Fax: +39 010 9868933
Email: This email address is being protected from spambots. You need JavaScript enabled to view it.
Gota
Premium Bottled Water from Argentina
Company: Gota Water S.A.
Website: www.gotawater.com
Phone: +54 11 4797-1390
Fax: +54 11 4797-1390
Email: This email address is being protected from spambots. You need JavaScript enabled to view it.
Ice Swan
Premium Bottled Water from Chile
Company: Aguas Glaciar S.A.
Website: www.iceswan.com
Phone: +56 2 22441319
Mobile: +56 9 92491352
Email: This email address is being protected from spambots. You need JavaScript enabled to view it.
Iskilde
Premium Bottled Water from Denmark
Company: Iskilde ApS
Website: www.iskilde.dk
Phone:  +45 86 84 48 48
Fax: +45 98 51 00 30
Email: This email address is being protected from spambots. You need JavaScript enabled to view it.
Krystal
Premium Bottled Water from China
Company: Heilongjiang W.A.T.E.R. Company
Website: www.krystal-water.com
Phone: 852 2822 8381   
Fax: 852 2537 9283
Email: This email address is being protected from spambots. You need JavaScript enabled to view it.
Morene
Premium Bottled Water from Norway
Company: Morene Springwater
Website: www.morene-springwater.com/
Phone: +47 918 33 969
Email: This email address is being protected from spambots. You need JavaScript enabled to view it.,
Mulshi
Premium Bottled Water from India
Company: Luthra Water Systems Pvt. Ltd.
Website: www.mulshisprings.com
Phone: 91-22-56345999
Fax: 91-22-56346141
Email: This email address is being protected from spambots. You need JavaScript enabled to view it.
Agua de la Patagonia
Premium Bottled Water from  Argentina
Company: Aguas Primitivas de la Patagonia S.A.
Website: www.aguapatagonia.com
Phone: + 54 11 4590 2467
Fax: + 54 11 4032 0406
Email: This email address is being protected from spambots. You need JavaScript enabled to view it.
Pedras
Premium Bottled Water from Portugal
Company: Unicer Bebidas de Portugal
Website: www.aguadaspedras.com
Phone: +351229052100
Email: This email address is being protected from spambots. You need JavaScript enabled to view it.
PureSwiss
Premium Bottled Water from Switzerland
Company: PURE SWISS, Inc.
Website: www.pureswisswater.com
Phone: +1 877 609 2837
Email: This email address is being protected from spambots. You need JavaScript enabled to view it.
ROI
Premium Bottled Water from Slovenia
Company: ROI Rogaska d.o.o.
Website: www.roiwater.com
Phone: +386 3 811 4006
Fax: +386 3 811 4119
Email: This email address is being protected from spambots. You need JavaScript enabled to view it.
Sole/Acqua Armani
Phone: +86 139 1683 7511
Email: This email address is being protected from spambots. You need JavaScript enabled to view it.
Aigua de Vilajuiga
Premium Bottled Water from Spain
Company: AIGUES MINERALS DE VILAJUIGA
Website: www.vilajuigawater.com
Phone: +34 639 024 447
Email: This email address is being protected from spambots. You need JavaScript enabled to view it.
Virgen
Premium Bottled Water from Uruguay
Company: Premium Beverages
Website: www.virgenwater.com
Phone: +598 2628 8889
Email: This email address is being protected from spambots. You need JavaScript enabled to view it.
Waiakea
Premium Bottled Water from the USA
Company: Waiakea Inc.
Website: www.WaiakeaSprings.com
Phone: 1-(855)-WAIAKEA
Fax: 213-226-1738
Email: This email address is being protected from spambots. You need JavaScript enabled to view it.
 
GLASS & STEMWARE
Rogaska Glasswork
One of the leading producers of crystal stemware in the world.
Company: Steklarna Rogaska d.d.
Website: www.steklarna-rogaska.si
Phone: +386 3 818 01 70
Fax: +386 3 818 03 26
Email: info@ steklarna-rogaska.si
 
DISTRIBUTORS
Purelogica
Portfolio Distribution, China
Company: Synergy Plus International Pty Limited Australia
Website: www.purelogica.cn
Phone: +8621 6062 7159
Email: This email address is being protected from spambots. You need JavaScript enabled to view it.
SAQI Water World
Portfolio Distribution, China
Company: Beijing SaQi Hengfeng Trade Co.,Ltd. 
Website: www.sqwater.com
Phone: +86 010 85900063
Email: This email address is being protected from spambots. You need JavaScript enabled to view it.
Gota Distribution
Distributor, China
Company: Luckfaith International Trading Ltd (HKG)
Website: www.gotawater.com
Phone: +8627-85352689
Fax : +8627-85352732
Email: This email address is being protected from spambots. You need JavaScript enabled to view it.
Aquamaestro
Portfolio Distribitor, USA
Company: Aqua Maestro, Inc.
Website: www.aquamaestro.com
Phone: +1 954 735-4040
Fax : + 1 954 735-4030 fax
Email: This email address is being protected from spambots. You need JavaScript enabled to view it.
 
SOURCES
KOHA Water
Source: New Zealand
Company: Koha Water Ltd
Website: www.facebook.com/pages/KOHA-WATER-LTD/340892332678381
Phone: +34 638 02 44 47
Email: This email address is being protected from spambots. You need JavaScript enabled to view it.
Snasa Natural Mineral Water
Source: Norway
Company: Snasavann AS
Website: www.snasavann.com
Phone: +47 91 75 89 75
Email: This email address is being protected from spambots. You need JavaScript enabled to view it.
 
INDEPENDENT OBSERVERS
We have a number of independent observers and entrepreneurs from India, Russia, New Zealand, USA and China