Rim Water Analysis:
Balance
Still
Virginality
Very Good
Minerality
Low
Orientation
Hint of Sweet
Hardness
Hard
Vintage
 
Carbonation
 
 
 
TDS
150 mg/l
ph factor
7.4
Hardness
147 mg/l
Nitrate
1.5 mg/l
Calcium
33 mg/l
Magnesium
16 mg/l
Sodium
2.3 mg/l
Potassium
0.3 mg/l
Silica
 
Bicarbonate
150 mg/l
Sulfate
12 mg/l
Chloride
7 mg/l

Rim is a Member of the Fine Water Society
| | |
| --- | --- |
| Source: | Spring |
| Location: |   |
| Country of Origin: | Lebanon |
| Region: | Bekaa |
| Place: | Mount Sannine |
| Established: | 1978 |
| Company: | Rim Natural Spring Mineral Water S.A.L. |
| Status: | Active |
| Web Site: | www.rimwater.com |
| phone: | +961-4-528004 |
| email: | This email address is being protected from spambots. You need JavaScript enabled to view it. |
| Social Media: |    |
Rim Natural Spring Mineral Water flows forth from a 100 million year old spring known as "Ain-As-Sayfiyeh" at an altitude of 1450 m.a.s.l. on the eastern slopes of Mount Sannine in Lebanon. The Rim bottling plant houses some of the largest and most up to date complete bottling lines in the Middle-East region with an output of more than 70,000 (PET) bottles per hour, of various sizes.
Rim's bottling business has been established since 1978 and today its quality mineral water sold under the brand name Rim is very well known locally and exported into many parts of the world. Rim Company is ISO 22000 certified and its products labels bear the prestigious NSF and IBWA International quality marks.
Rim is distinguished by low sodium and high magnesium contents.

RIM is also available in a sparkling version in PET.
Minerality: Low (191 mg/l)
Orientation: Acidic (pH 4.8)
Carbonation: Artificial
#FineWatersPairings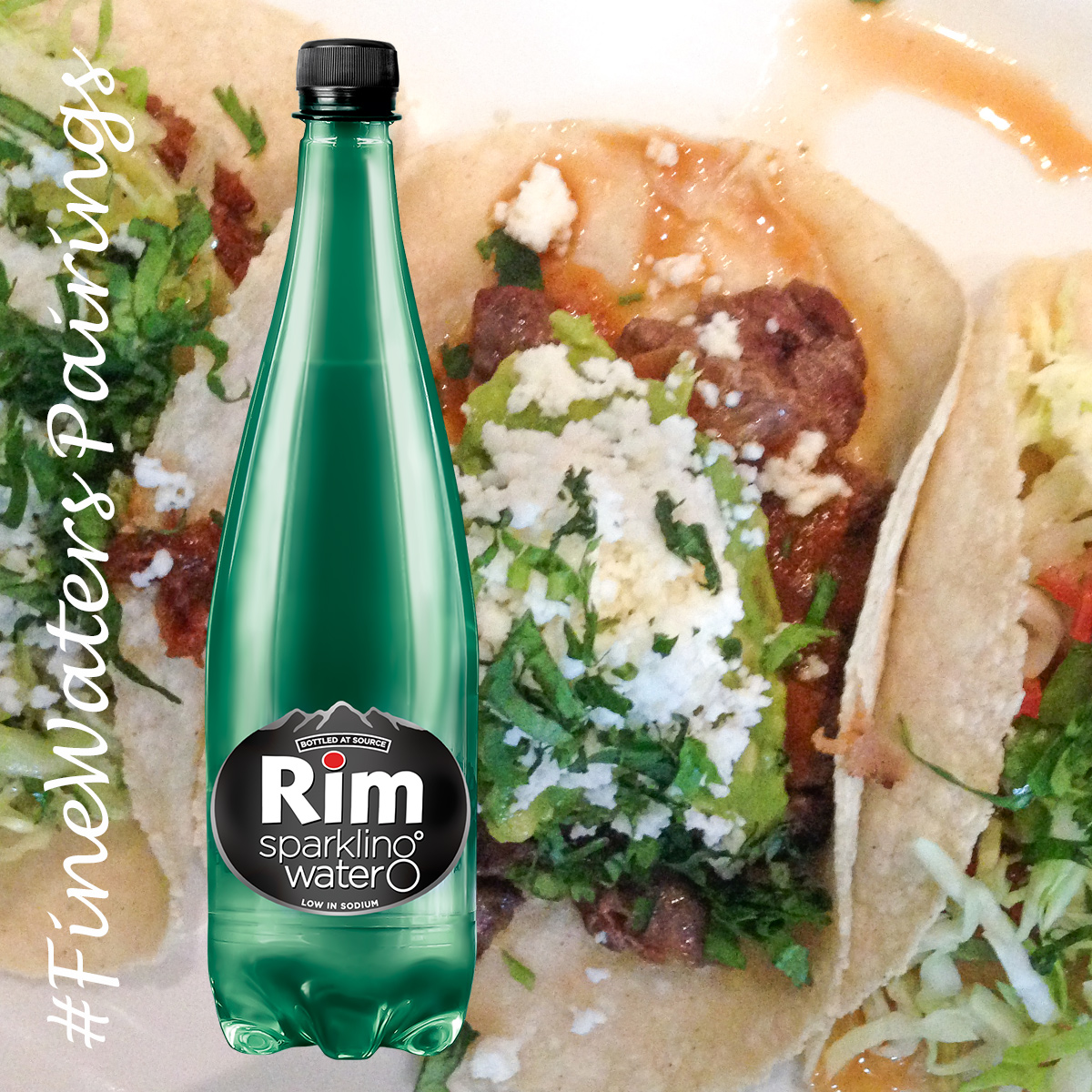 Bright flavors, spicy, soft, crispy and greasy make tacos so versatile and appealing. As a rule of thumb a Low Minerality water with medium to large bubbles like the award winning RIM Sparkling would be a perfect match, adding to the exiting mouthfeel of a tacos.
Awards