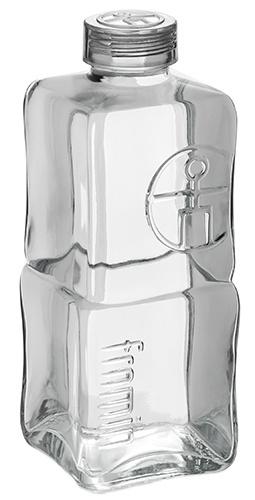 Fromin Water Analysis:
Balance
Still
Virginality
Very Good
Minerality
Low
Orientation
Hint of Sweet
Hardness
Hard
Vintage
 15.000 years
Carbonation
 
 
 
TDS
176 mg/l
ph factor
7.7
Hardness
144mg/l
Nitrate
< 2 mg/l
Calcium
54 mg/l
Magnesium
3 mg/l
Sodium
2 mg/l
Potassium
1mg/l
Silica
11 mg/l
Bicarbonate
197mg/l
Sulfate
9 mg/l
Chloride
2 mg/l

Fromin is a Member of the Fine Water Society
| | |
| --- | --- |
| Source: | Artesian |
| Location: |   |
| Country of Origin: | Czech Republic |
| Region: | North Bohemia |
| Place: | Česká Lípa |
| Established: | 1997 |
| Company: | WATER TRADE s.r.o |
| Status: | Active |
| Web Site: |   |
| phone: | +420 776856112 |
| email: | This email address is being protected from spambots. You need JavaScript enabled to view it. |
| Social Media: | |
The water for Fromin comes from Ice Age glaciation that covered the mountains of northern Bohemia 15,000 years ago.

At the end of the ice age, water from the melting glacier began to seep into the aquifers of 90 million-year-old blocky sandstones, which have been preserved it as a remnant of the seabed, which was located in this area for a long time. In this vast aquifer of quartz sand, the water moves under great pressure in the grains and in the cracks at a speed of one meter per year and is enriched with minerals and untouched by civilization.

The Fromin water is protected from any contamination by overlying impermeable clay rocks, which form a ceiling with a thickness of 150 meters. Due to the fact that the impermeable layer and its granite subsoil are inclined, Fromin water from a 300 m deep well is naturally pushed to the surface, as an artesian well, without the need for pumping.

The Vintage of Fromin is 15 000 years.
Where to Buy
Awards