Pedras Water Analysis:
Balance
Light
Virginality
Superior
Minerality
Very High
Orientation
Acidic
Hardness
Very Hard
Vintage
100 Years
Carbonation
Natural
 
 
TDS
2,807 mg/l
ph factor
6.1
Hardness
360 mg/l
Nitrate
0.3 mg/l
Calcium
102 mg/l
Magnesium
24 mg/l
Sodium
577 mg/l
Potassium
29 mg/l
Silica
62 mg/l
Bicarbonate
1,983 mg/l
Sulfate
6 mg/l
Chloride
30 mg/l

Pedras is a Member of the Fine Water Society
| | |
| --- | --- |
| Source: | Spring |
| Location: | |
| Country of Origin: | Portugal |
| Region: | Região Norte |
| Place: | Pedras Salgadas |
| Established: | 1871 |
| Company: | Unicer - Bebidas de Portugal |
| Status: | Active |
| Web Site: | www.unicer.pt |
| phone: | +351 229 052 100 |
| email: | This email address is being protected from spambots. You need JavaScript enabled to view it. |
| Social Media: | |
The springs of Pedras Salgadas were known since Roman times. However, they only began to be exploited commercially in 1871. In 1879 the on the Grande Hotel in the spa area started, and in 1884, was visited by the Queen D. Maria Pia.
In 1893, the process of bottling got under way, putting Pedras Salgadas within the reach of not only visitors to the spa but also the rest of the Portuguese population. Pedras Salgadas is a naturally carbonated mineral water with a unique and constant composition. It comes from the north east of Portugal, on a totally isolated plateau, free from any kind of pollutant, in a region of rare beauty and environmental purity.
The water takes about ten years to cross the different layers of granite that filter it and enrich it with mineral salts, endowing it with the properties that make it into the market leader of Portugal's sparkling waters
Água das Pedras - "water from stones"
There is an explanation for the association frequently made in Portugal between Pedras Salgadas and "Água das Pedras" ("water from the stones"). In the middle of the 1960s, the brand's advertising strategy urged the consumption of water from the stones. "All hours are good to drink Water from the Stones", "Naturally Water from the Stones" and "Water from the Stones". "Energy that moves with you" were some of the slogans that had been used by the brand by the beginning of the 1990s.
Consequently, this naturalness of Pedras led to the actual claim of the brand: "Nature's Power is Infinite!" .
Where to Buy
Virtual Site Visit
#FineWatersPairings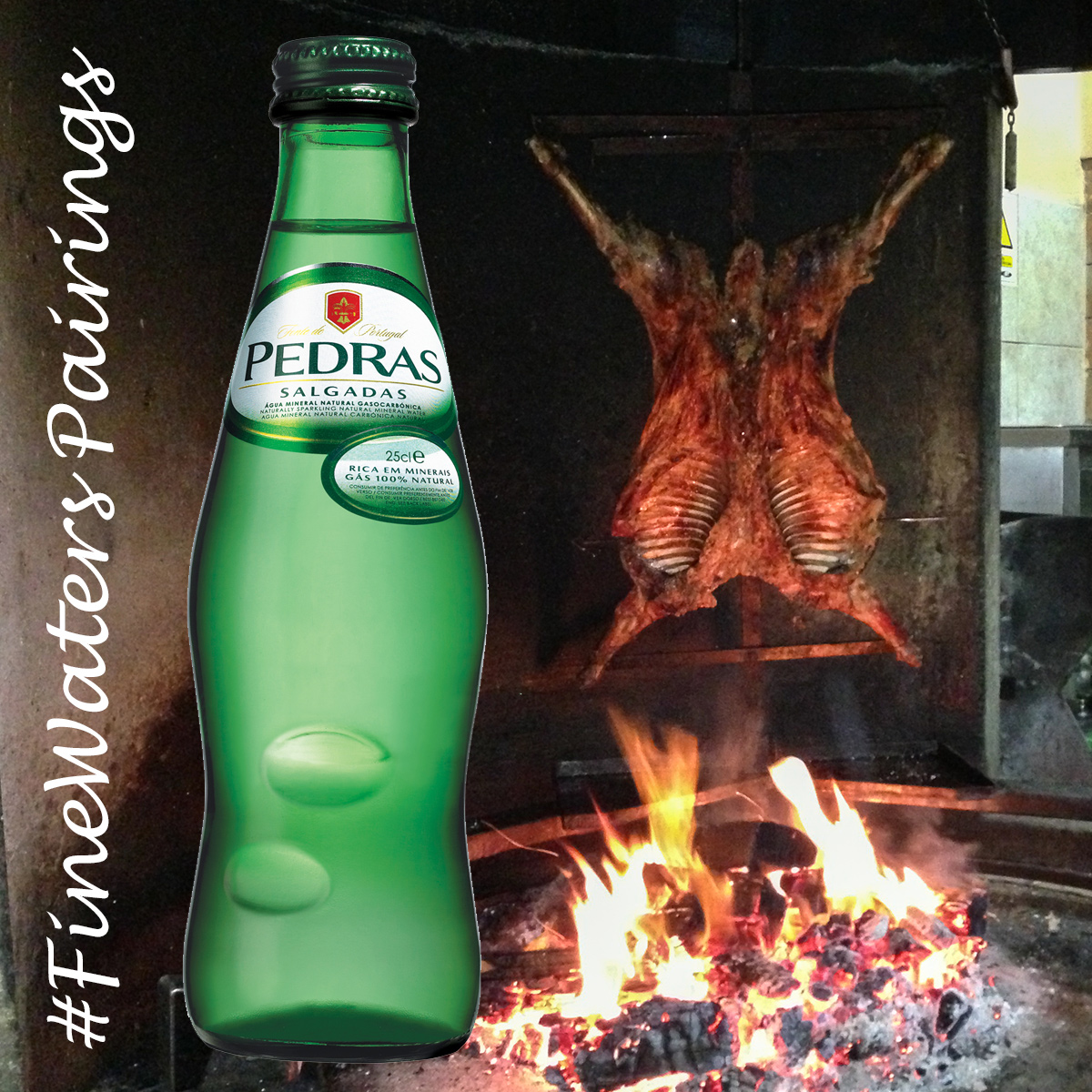 Sometimes it's Fire. Smoke. Meat. A Very High Minerality water preferable with medium bubbles like Pedras is the water of choice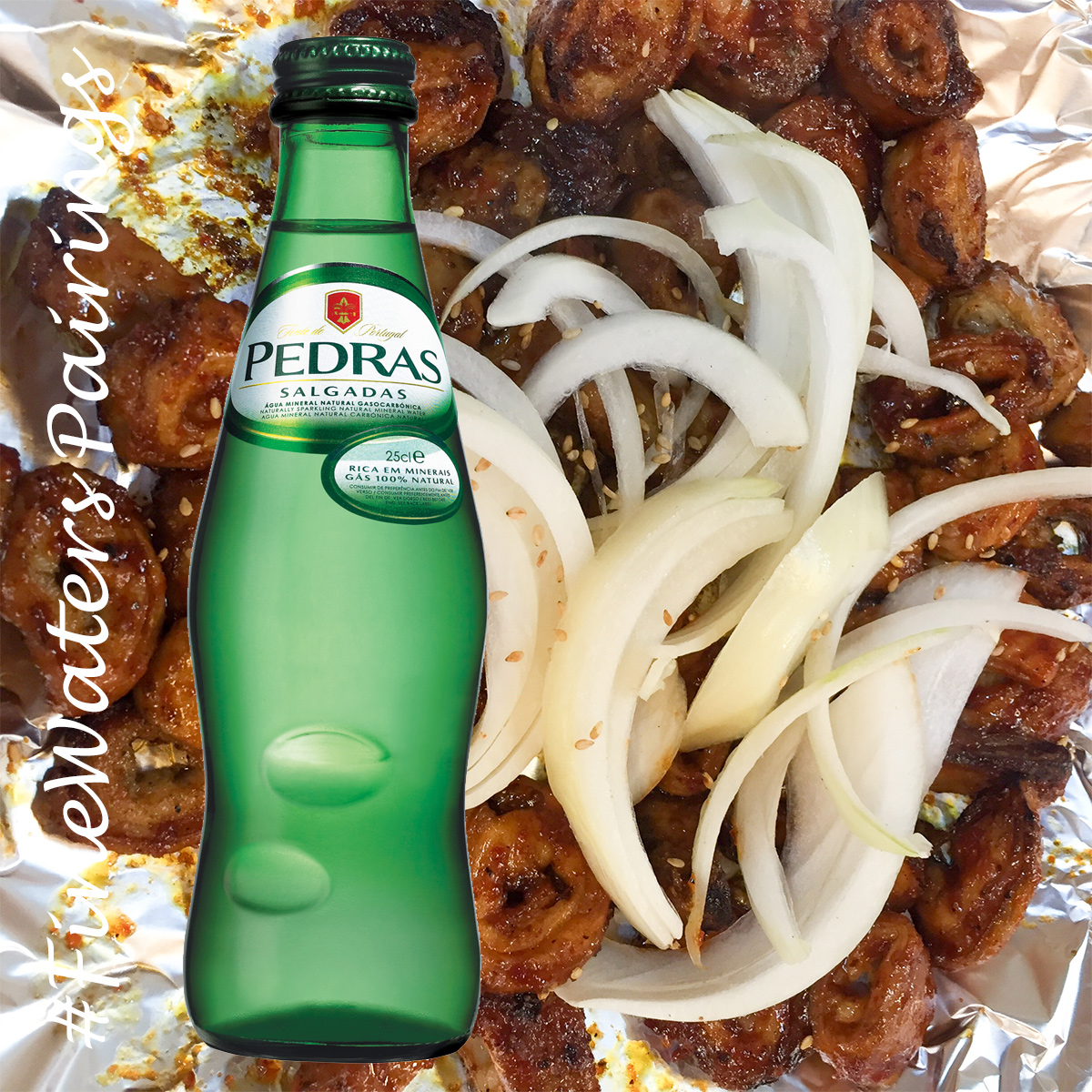 Grilled Korean style pig intestine is a delicacy for those in the know. Deep satisfying flavors of the offal mixed with the umami of the soya sauce create a dish that requires a bold water and I also prefer bubbles to cut through the fat and provide additional mouthfeel. A water like the naturally carbonated Pedras from Portugal with a high TDS would be a perfect choice.
Where to buy:
Awards