Vidago Water Analysis:
Balance
Effervescent
Virginality
Superior
Minerality
Very High
Orientation
Acidic
Hardness
Very Hard
Vintage
200 Years
Carbonation
Natural
 
 
TDS
2,853 mg/l
ph factor
 
Hardness
 
Nitrate
0.2 mg/l
Calcium
82 mg/l
Magnesium
15 mg/l
Sodium
619 mg/l
Potassium
47 mg/l
Silica
00 mg/l
Bicarbonate
1,995 mg/l
Sulfate
3.3 mg/l
Chloride
32 mg/l

Vidago is a Member of the Fine Water Society
| | |
| --- | --- |
| Source: | Spring |
| Location: |   |
| Country of Origin: | Portugal |
| Region: | Chaves |
| Place: | Vidago |
| Established: | 1873 |
| Company: | Unicer - Bebidas de Portugal |
| Status: | Active |
| Web Site: | www.unicer.pt |
| phone: | +351 229 052 100 |
| email: | This email address is being protected from spambots. You need JavaScript enabled to view it. |
| Social Media: | |
In addition to wine, northern Portugal holds some important sources of natural carbonated waters. The town of Vidago was once one of the most visited Portuguese spas and the water from Vidago has been bottled since 1873.
The source of Vidago is on the grounds of the Vidago Palace Hotel and can be visited and the natural carbonated water can be sampled at the source. A deep aquifer with water about 200 years old reaches close to the earth crust and the interaction creates the very rare naturally carbonated waters. When tasting a the source one notices the iron content of the water which holds some health benefits. For bottling the iron is removed in a gentle and natural way and the result is a high mineral content water with small soft bubbles and significant level of bicarbonates.
Vidago has been re-launched in 2010. The new upscale glass bottle for Vidago puts the water on the epicurean table and lets people enjoy the water away from the spa.
#FineWatersPairings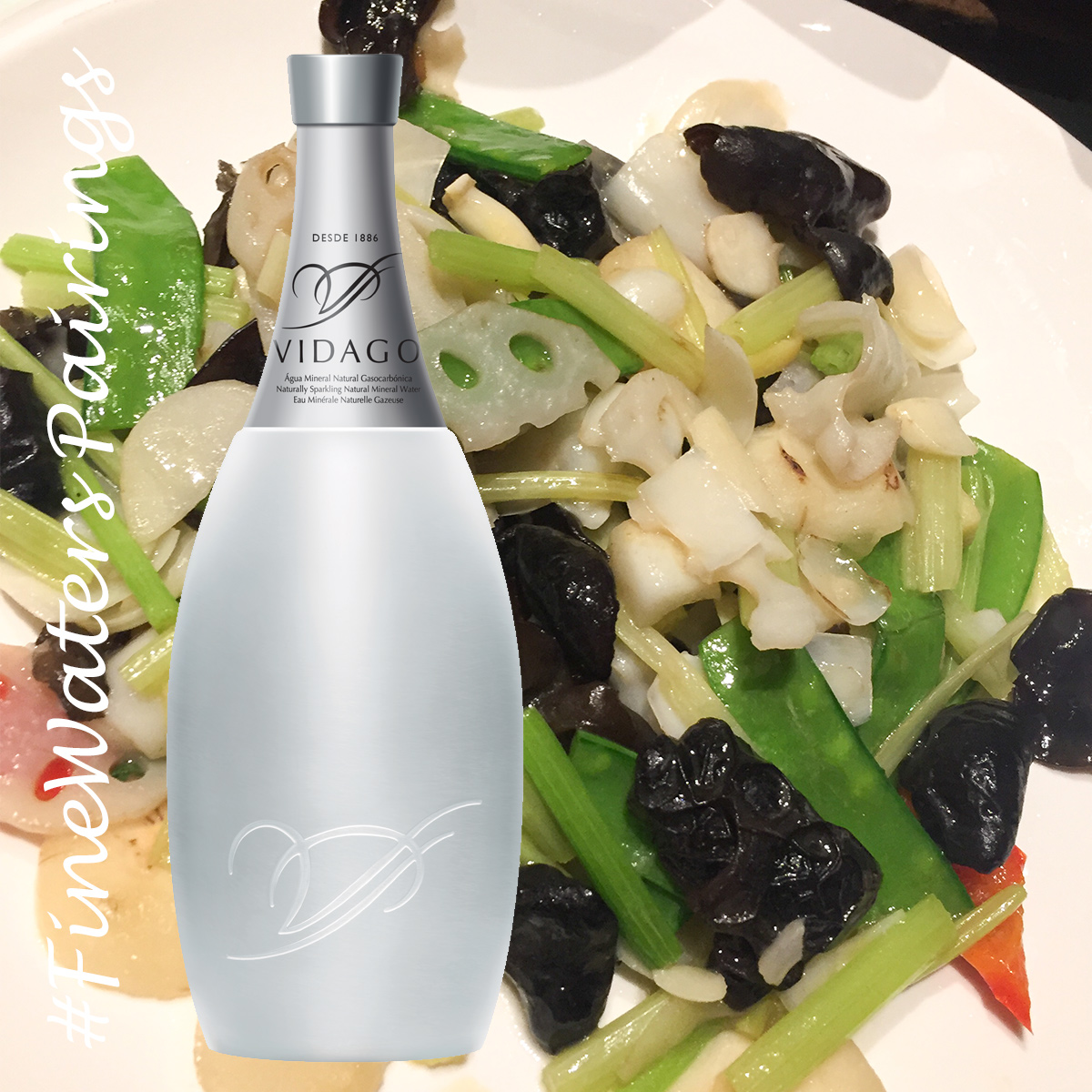 This lotus root salad consists of crunchy vegetables but with an earthy tone from the mushrooms and the lotus root. First instinct would be to pair it with a still, low Minerality water but I would love the experience the dish with something different. I think we need soft large bubbles and a much higher Minerality for this dish. Pairing it with Vidago from Portugal provides natural carbonation and a distinct taste from a higher TDS.
Where to buy