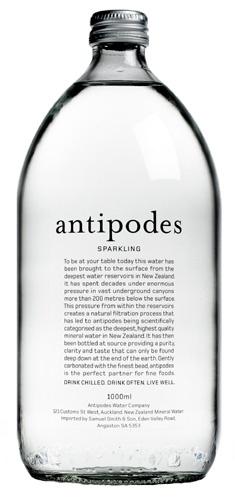 Antipodes Water Analysis:
Balance
Still & Light
Virginality
Superior
Minerality
Low
Orientation
Neutral
Hardness
Soft
Vintage
50 Years
Carbonation
Added
 
 
TDS
120 mg/l
ph factor
6.9
Hardness
15 mg/l
Nitrate
1 mg/l
Calcium
3 mg/l
Magnesium
ND
Sodium
12 mg/l
Potassium
3.5 mg/l
Silica
76 mg/l
Bicarbonate
37 mg/l
Sulfate
3 mg/l
Chloride
ND

Antipodes is a Member of the Fine Water Society
| | |
| --- | --- |
| Source: | Spring |
| Location: |   |
| Country of Origin: | New Zealand |
| Region: | Bay of Plenty, North Island |
| Place: | Otakiri, Whakatane |
| Established: | 2003 |
| Company: | Antipodes Water Company |
| Status: | Active |
| Web Site: | www.antipodes.co.nz |
| phone: | +64 9 846 9651 |
| email: | This email address is being protected from spambots. You need JavaScript enabled to view it. |
| Social Media: | |
Either a still or a softly beaded sparkling water specifically designed for restaurant dining in a modern, crisp, clean and elegant bottle.
The water comes from a deep 500 - 1000 ft deep pressured aquifer and has a residency of about 50 years while filtering through a sub strata of ignimbrite. The area of recharge for the aquifer is the Rotoma Hills, which has a historically low human population density, less than 1 person per 250 acre, with no commercial or industrial activity. Antipodes mineral water is bottled at the source in Otakiri, Bay of Plenty.
Great presentation as the bottle expresses terroir and is a modern take on the old fashioned New Zealand beer flask.
History of Antipodes
Arriving back to New Zealand after 6 years away the first thing that hit Simon Woolley, founder of Antipodes, was the large presence of imported waters in all of New Zealand's restaurants. Being both a big water drinker and someone who has had experience in the restaurant industry, it bugged Simon not being able to find a good tasting softly beaded New Zealand mineral water that was specifically packaged for restaurant dining.
In the past as a restaurateur Simon could never understand why he had to sell waters all the way from Europe, when there ought to be good water in New Zealand. Simon spent a year asking and researching and the result is Antipodes.
It is a high quality New Zealand water and it has been packaged it to compete with the European waters people drink in restaurants. Rather than copy the European packaging Antipodes went for something far more contemporary and stylish which they believe is far more reflective of the modern New Zealand. Crisp, clean, simple and elegant rather than fussy, busy and traditional. Modeling the bottle on the original glass (sherry / beer) flagon, there is something iconically New Zealand about the shape to which Antipodes added the purity of modern design elements.
Just as people feel very comfortable about a bottle of New Zealand wine being on the restaurant table so should they feel about a bottle of New Zealand water. New Zealand has come of age in both a food and wine sense and a design sense. Antipodes is now the 'water' example of that fact.
Where to Buy
#FineWatersPairings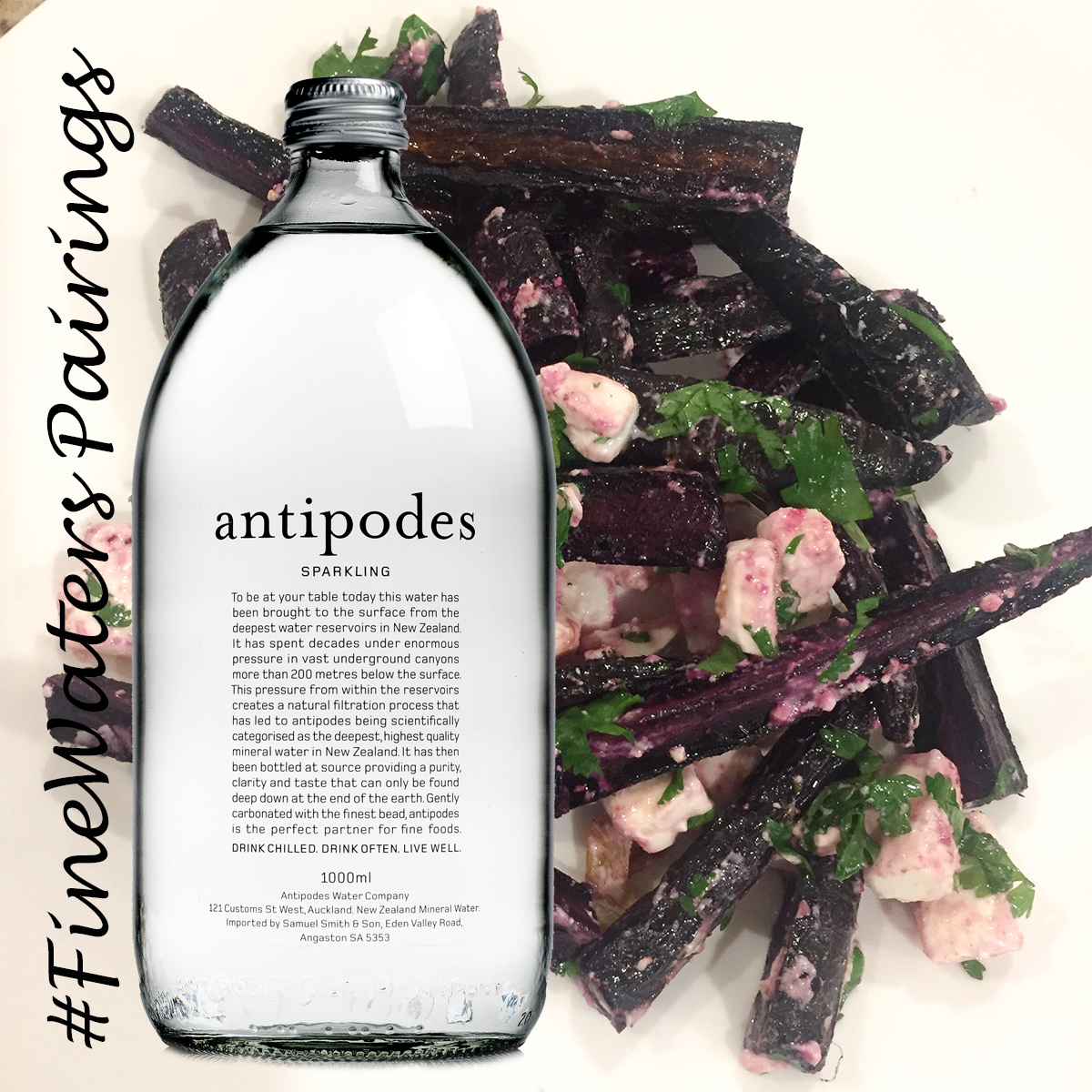 Antipodes is a classic premium water from New Zealand has a LOW Minerality and a soft, neutral flavor. The sparkling version has soft, small beads. Both versions would be perfect for this home-cooking dish of oven-roasted red beets and feta cheese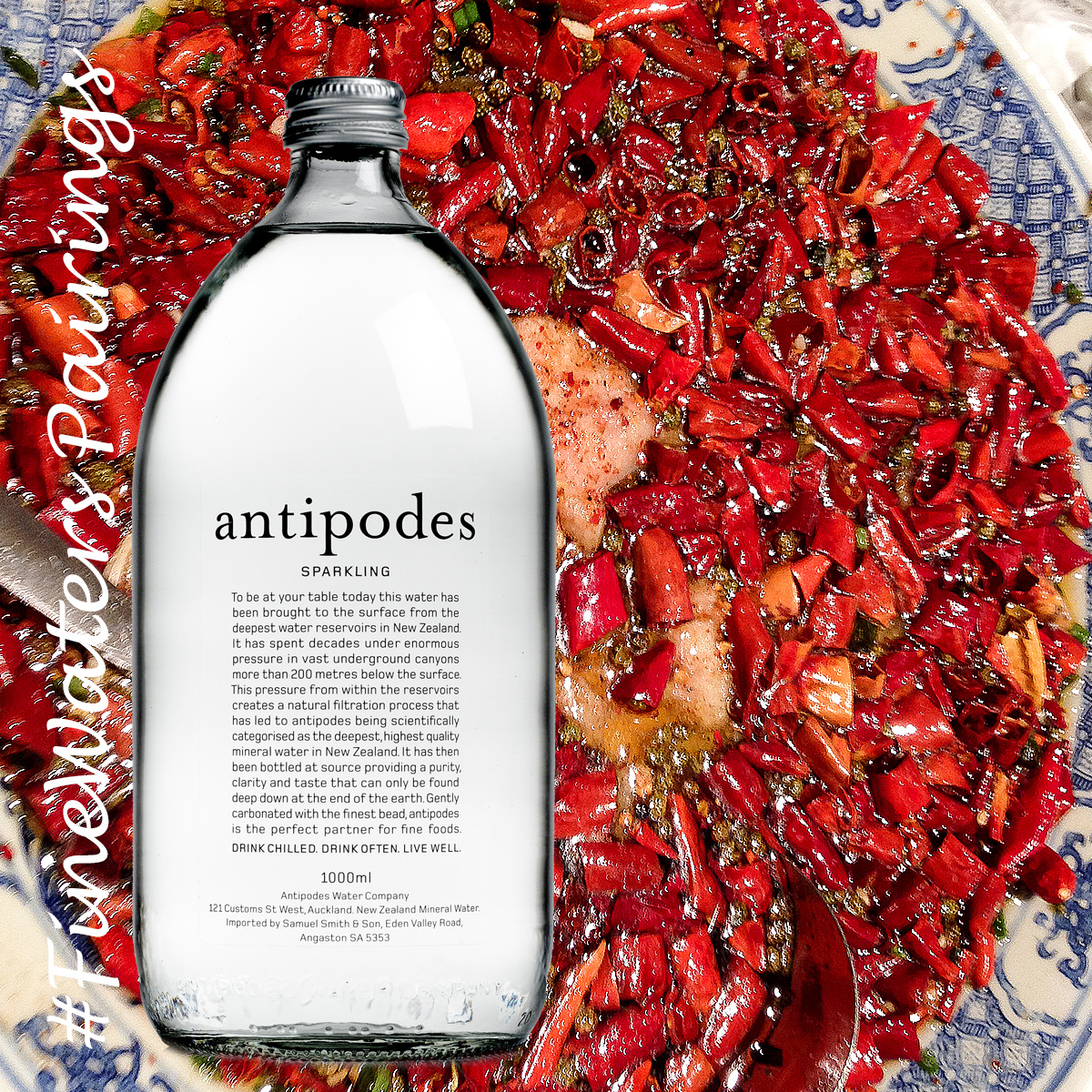 Sichuan style food from the Sichuan province of southwestern China is typically a very spicy, fragrant and flavorful. Many dishes incorporate a lot of garlic, chili, and Sichuan peppers to an extent that sometimes the dish is almost completely emerged in chilies. Hot. Hot. Hot. The only thing in my opinion that brings relief from the burning sensation is water with small bubbles and Antipodes would be a perfect example of such a water. # Sichuan # Sichuanfood #hot #spicy #sichuanpeppers #chili
Awards