Pineo Water Analysis:
Balance
Still & Medium
Virginality
Very Good
Minerality
Low
Orientation
Hint of Sweet
Hardness
Very Hard
Vintage
 
Carbonation
 Added
 
 
TDS
223 mg/l
ph factor
7.9
Hardness
211 mg/l
Nitrate
1.1 mg/l
Calcium
79 mg/l
Magnesium
3.7 mg/l
Sodium
0.9 mg/l
Potassium
<1 mg/l
Silica
 5.1 mg/l
Bicarbonate
248 mg/l
Sulfate
7.9 mg/l
Chloride
1.9 mg/l

Pineo is a Member of the Fine Water Society
| | |
| --- | --- |
| Source: | Artesian |
| Location: |   |
| Country of Origin: | Spain |
| Region: | Catalonia |
| Place: | Estamariu |
| Established: | 1994 |
| Company: | Naturquell SAU |
| Status: | Active |
| Web Site: | www.pineo.cat |
| phone: | +34 973 36 00 25 |
| email: | This email address is being protected from spambots. You need JavaScript enabled to view it. |
| Social Media: | |
The sources arise in the untouched environment of the Spanish Pyrenees, close to Andorra, and protected by a nest of trencalos (bearded vultures). With an altitude of 1500m the source is far above the industrial limit and surround by protected nature reserves.. The village of Estamariu is located approximately 10-15 kilometers from the and has a population of 120.
Locations where artesian water surfaces have traditionally been labelled as holy places, and they are often the sites of shrines, baths and pilgrimages. The ruins of Monastir Sant Vicenç de Pinsent are a mere 100 meters from the sources, protected by overhanging rocks. The small monastery dates to 852 AD, with its church restored in 967 by the Bishop of Urgell, Guisad II. The monastery was a Roman abbey, and only its ruins remain.
Pineo water comes from deep inside the Benedio mountain and the average capacity of the Pineo sources is 25,000 liters an hour – never pumped, just naturally arising. The water not bottled eventually flows into the 261 km long El Segre river. Water arises spontaneously from the Pineo sources, pushed upwards by hydraulic pressure in an underground reservoir. The ground consists of a range of aquifers, which are water-permeable layers that are cut off by non-permeable layers. This allows water from closer to the surface to pressurize water that is lower down, pushing it up to the earth's surface. The water surfaces spontaneously, and is known as a natural artesian well. The water is bottled at the source at an altitude of 550 meters.

#FineWatersPairings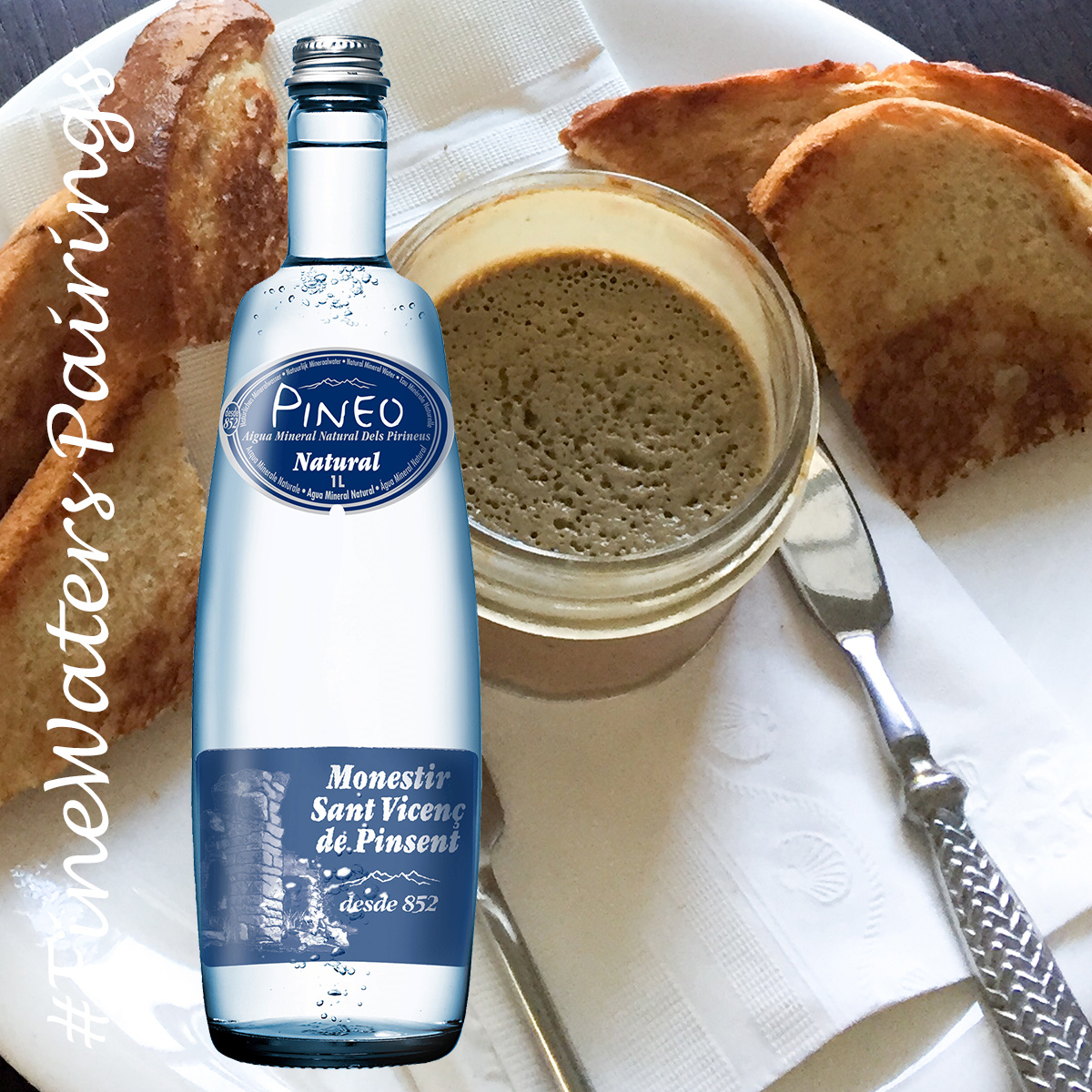 Chicken liver pate # chickenliverpate in some form or another is a classic stable of many countries. Especially with toast I like a Low Minerality still water with an alkaline pH like Pineo from Catalonia. #bodegamcallen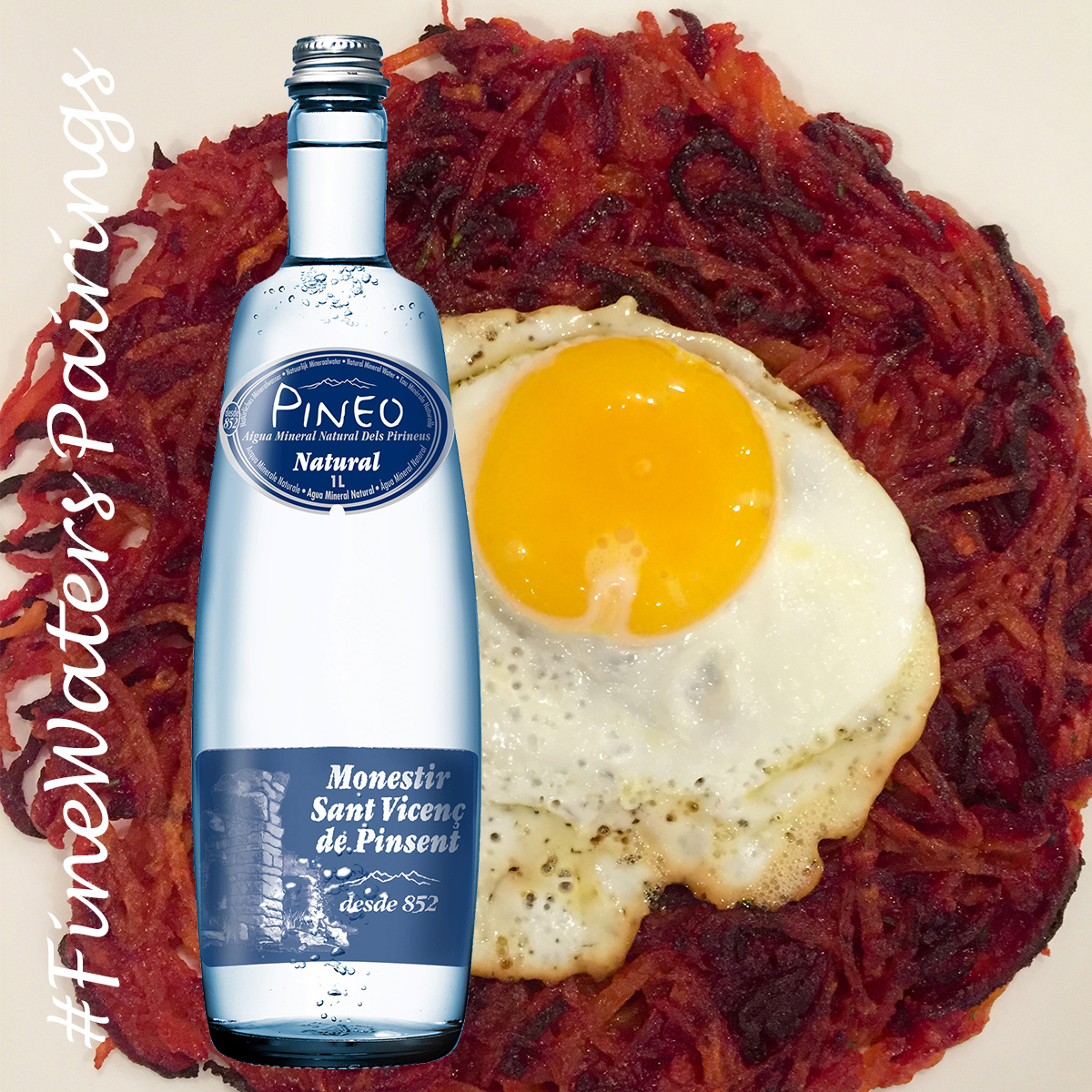 Red Beet Hash with a farm fresh egg is a simple but very satisfying dish if done with high quality red beets to bring out the sweetness of the roots. The egg provides a creamy texture and the whole dish deserves a low minerality water with a slightly alkaline pH. Pineo Spanish Pyrenees in Catalonia would be a perfect match.
Awards