Aqua Carpatica (nat. carb.) Water Analysis:
Balance
Light
Virginality
Superior
Minerality
High
Orientation
Alkaline
Hardness
Very Hard
Vintage
 40 years
Carbonation
 Natural
 
 
TDS
1000 mg/l
ph factor
6.6
Hardness
959 mg/l
Nitrate
ND mg/l
Calcium
260 mg/l
Magnesium
77 mg/l
Sodium
4
Potassium
3 mg/l
Silica
 
Bicarbonate
220 mg/l
Sulfate
19 mg/l
Chloride
ND

Aqua Carpatica is a Member of the Fine Water Society
| | |
| --- | --- |
| Source: | Spring |
| Location: |   |
| Country of Origin: | Romania |
| Region: | Suceava |
| Place: | Vatra Dornei |
| Established: | 2010 |
| Company: | Carpathian Springs SA |
| Status: | Active |
| Web Site: | www.aquacarpatica.com |
| phone: | +40 21 211 1415 |
| email: | This email address is being protected from spambots. You need JavaScript enabled to view it. |
| Social Media: |     |
AQUA Carpatica comes from springs deep within the Carpathian Mountains, an ancient land
where time seems to stand still, and all that's left is nature's pristine beauty. In  the last wild forest of Europe purity reigns. The Carpathian Mountains of Romania are a range of majestic mountains stretching 1,000 miles across Central Europe, unspoiled by civilization, untouched by agriculture and industry.
The first reference to the mineral waters was made as early as 1410, in a donation paper from the Chancellery of Alexander the Good, the king of Moldavia at that time (1399-1431). The Emperor Franz Joseph I of the Austro-Hungarian Empire wrote about the mineral water in his  memories: "it is a ferruginous spring with therapeutically effects and it is appreciated even by the Moldavians. It is the best mineral water spring in the region"  
The Păltiniş Aquifer (Naturally Carbonated)
The geology of the AQUA Carpatica sparkling water is a testimony to a rich history of transformation that has taken place below the Earth's surface, going back millennia. The underground journey of the water traverses layers of Neogene-period volcanic rocks, absorbing carbonic acid, and eventually through dolomite -- a limestone rock which contains Calcium and Magnesium, a strata from 1 billion years ago (Proterozoic eon).  The carbonic acid dissolves valuable Calcium and Magnesium from the almost insoluble dolomite and a perfect water is created. It has been established that the underground path of the sparkling water (Paltinis Spring) is around 40 years long, during which natural filtration and enrichment with CO2 take place -- giving AQUA Carpatica its distinctive sparkle and taste.  The spring is located deep in the forest, far away from any human activity.
Where to Buy
#FineWatersPairings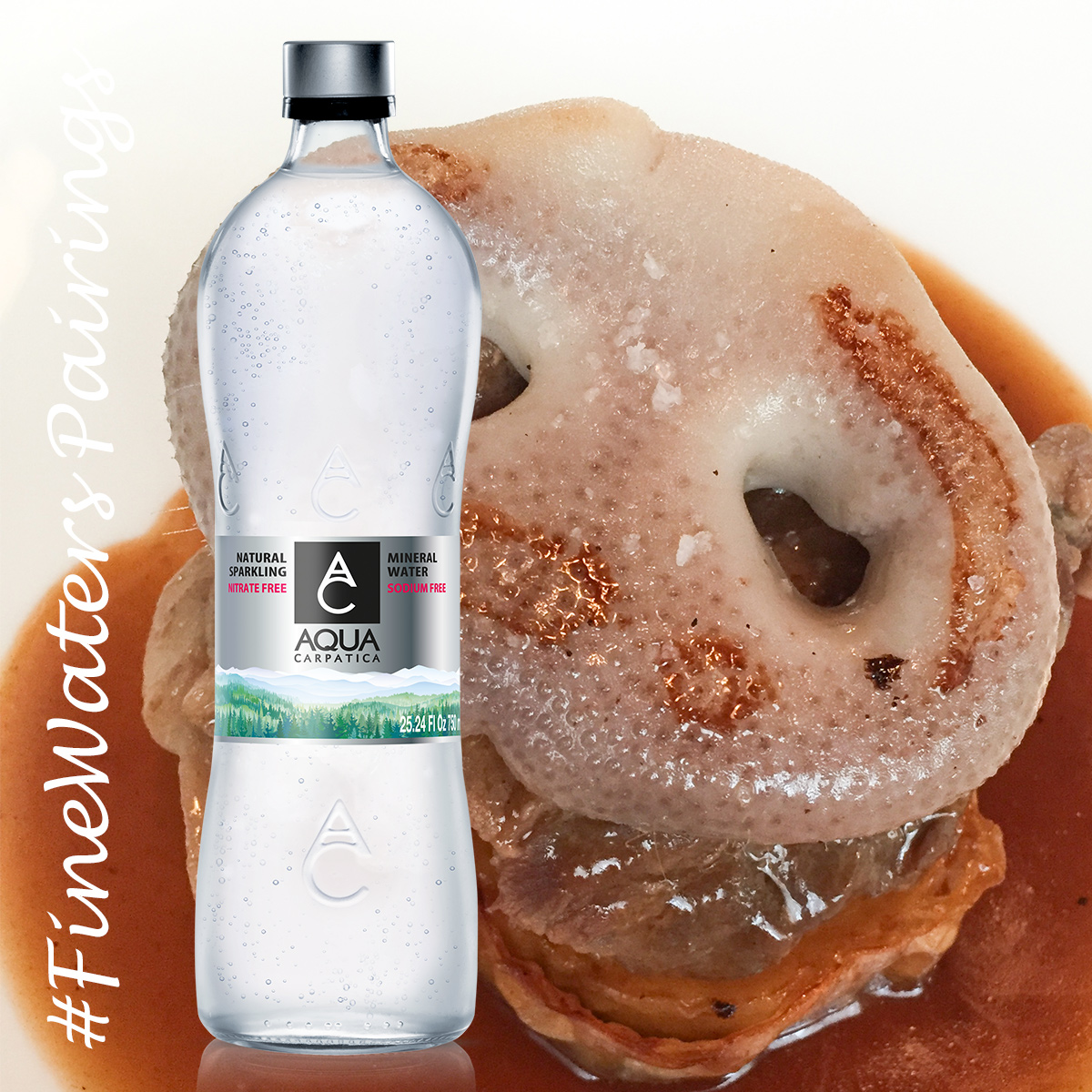 Nose-to-tail #nosetotail dishes are complex and flavorful with sometimes surprising textures. With this pork nose dish I would prefer a High Minerality content water with natural carbonation. AQUA Carpatica would be a perfect example of such a water.
AWARDS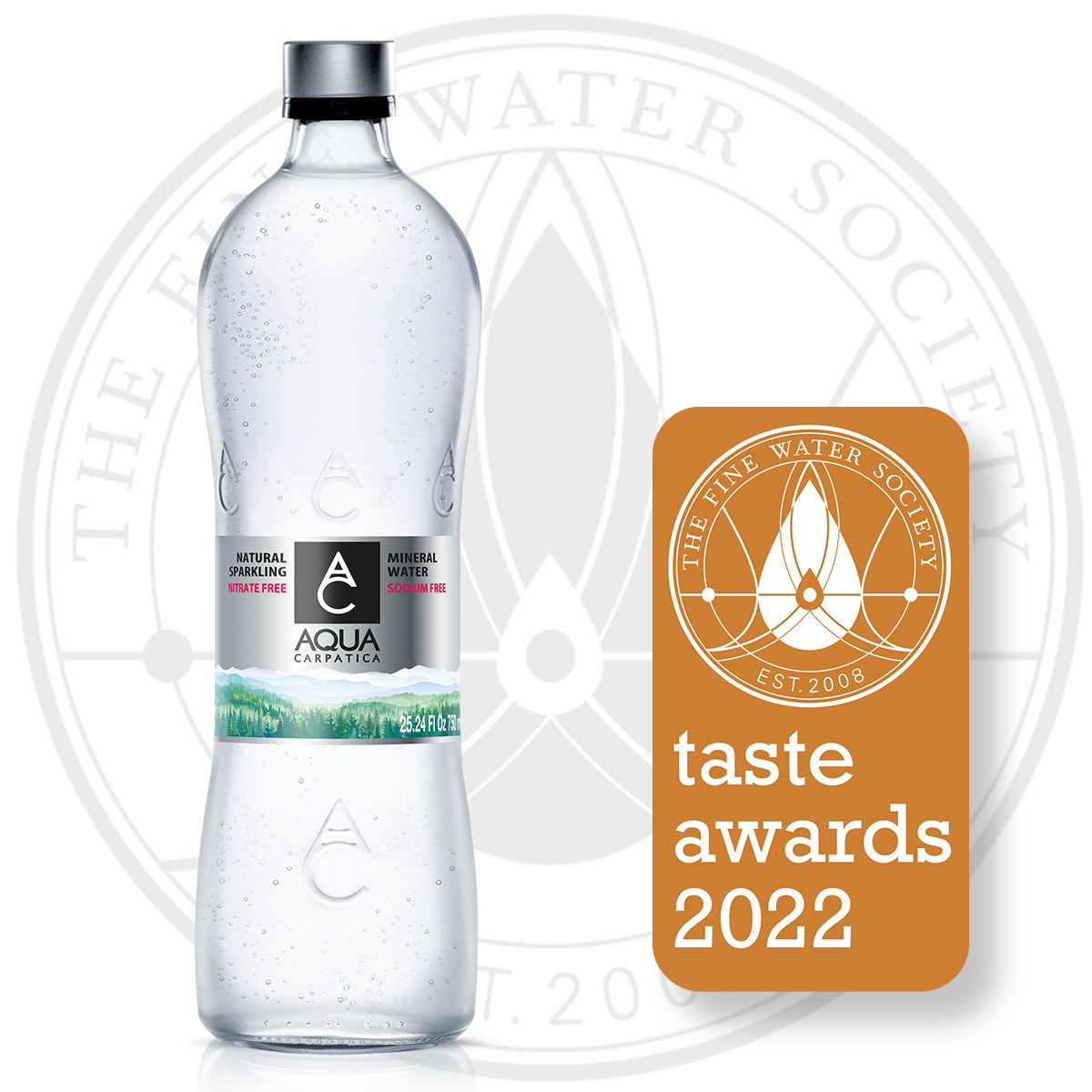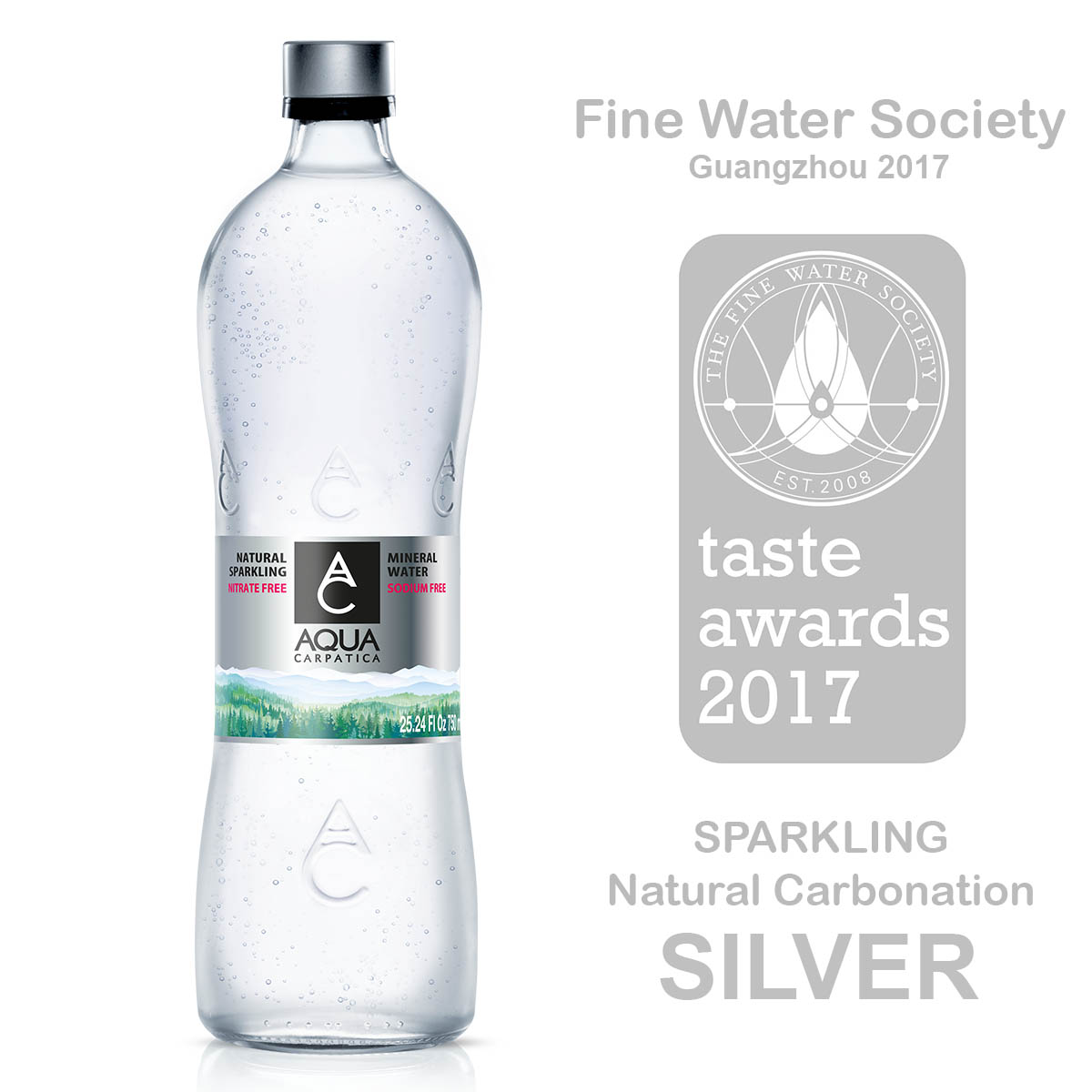 The brand was honored with many prestigious awards: Grand Prix Expo for bottled water in China (2013), the Grand Effie in Romania (2015), Fibra Awards' Campaign of the Year (2016), the prestigious Cannes Lions (2016), and the White Pencil award at D&AD New York (2016).