MINVINO Water Analysis:
Balance
Still > Effervescent
Virginality
Superior
Minerality
Low > Medium
Orientation
Neutral
Hardness
Soft >Slightly Hard
Vintage
 
Carbonation
  Added (#2,#3,#4)
 
 
TDS
123 > 415 mg/l
ph factor
7.0
Hardness
 
Nitrate
<1 mg/l
Calcium
11 > 90 mg/l
Magnesium
4 > 15 mg/l
Sodium
12 > 60 mg/l
Potassium
2 > 4 mg/l
Silica
 
Bicarbonate
 
Sulfate
 
Chloride
20 mg/l

MINVINO is a Member of the Fine Water Society
| | |
| --- | --- |
| Source: | Artesian / Curated |
| Location: |   |
| Country of Origin: | Sweden |
| Region: | Halland Län |
| Place: | Oskarström |
| Established: | 2017 |
| Company: | The Water Studio |
| Status: | Active |
| Web Site: | minvino.com |
| phone: | +46 70 652 3110 |
| email: | This email address is being protected from spambots. You need JavaScript enabled to view it. |
| Social Media: |     |
MINVINO Water is the world's first collection of curated water designed with the purpose to harmonize with different styles of wine. It's a Swedish innovation based on the gastronomic insight that water affects the taste of the wine. Minerality, PH-level, and carbonation level of the water interacts with the wine's acidity, tannins and unique flavors.

A glass of water can either enhance or destroy the taste of your wine – and therefore it will also affect a perfect gastronomic pairing. Just as pairing wine to food, the additional water glass adds a new dimension to the wine experience and the whole gastronomic equation.

The MINVINO Collection contains two waters curated for white wine and two waters curated for red wine.
MINVINO is based on spring water from one of Sweden's pristine historical spring sources, Mareds Källa, origin far away from industries and agriculture. Each MINVINO is instilled with a combination of natural minerals to create a perfect marriage to its intended category of wine.

The gastronomic significant of minerals
Minerals like Magnesium, Sodium, Calcium, and Silica plays its own significant role when it comes to how it interacts with different styles of wine. For example, Calcium tends to harmonize well with full-bodied white wines but will destroy an elegant and tannin-rich red wine.

Carbonation and gastronomic
When serving water in a gastronomic context the carbonation level is of importance. Super light carbonation activates and refreshes your taste buds. Medium or bold levels tend to numb and reduce your taste sensations. MINVINO No.2, No.3, and No.4 have a super light effervescent carbonation level as the bubbles in combination with the minerals have to match the mouthfeel of the wine.

MINVINO is also a perfect non-alcoholic alternative to your food.

The MINVINO collection is created by the 2007 World Sommelier Champion Andreas Larsson, the Swedish master blender Solveig Sommarström, the highly accomplished WSET4 sommelier Susanne Berglund Krantz, and Jeanette Fili Scandinavia ́s first water- and wine sommelier.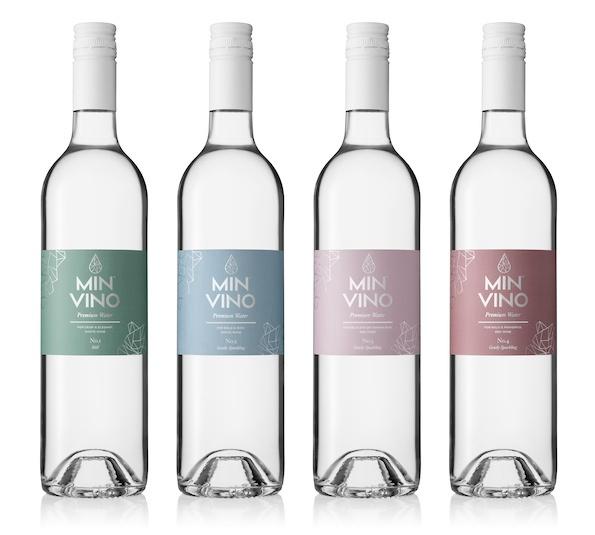 MINVINO No.1
 - FOR CRISP & ELEGANT WHITE WINES, CHAMPAGNE & VINTAGE WINES
The light minerality in MINVINO No.1 matches perfectly with the acidity in Light & Fruity wine like Chablis, riesling, albariño, and sauvignon blanc. As well as Champagne and vintage red and white wine. TDS: 123 mg/l. Balance: Still

MINVINO No 2- FOR BOLD & RICH WHITE WINE
The round minerality of MINVINO No.2 balances the smooth mouthfeel in rich full-bodied white wines like oked Chardonnay and Semillon. TDS: 206mg/l. Balance: Effervescent

MINVINO No 3 - FOR DELICATE OR TANNIN RICH RED WINE
The light saltiness in MINVINO No.3 harmonizes with the tannin structure of these wines and lifts the fruitiness in light red wines. For example, tannins rich wines like Barolo, Bordeaux, Priorate or delicate wines like red Bourgogne. TDS: 251 mg/l. Balance: Effervescent

MINVINO No4 - FOR BOLD & POWERFUL RED WINE
The semi-high minerality in MINVINO No.4 supports the intense flavors of rich red wines like American cabernet Sauvignon, Châteauneuf-du-Pape, shiraz, zinfandel and Amarone. TDS: 415 mg/l Balance: Effervescent