Aur'a  Water Analysis:
Balance
Still, Classic
Virginality
Very Good
Minerality
Medium
Orientation
Alkaline
Hardness
Very Hard
Vintage
 
Carbonation
Added
 
 
TDS
390 mg/l
ph factor
8.25
Hardness
270 mg/l
Nitrate
1.5 mg/l
Calcium
70 mg/l
Magnesium
24 mg/l
Sodium
4 mg/l
Potassium
2 mg/l
Gold
0.012 μg/l
Silver
0.04 μg/l
Bicarbonates
184 mg/l
Chloride
2 mg/l

Aur'a is a Member of the Fine Water Society
| | |
| --- | --- |
| Source: | Spring |
| Location: |   |
| Country of Origin: | Romania |
| Region: | Caras-Severin County |
| Place: | Ocna de Fier  |
| Established: | 2016 |
| Company: | Aur'a Mineral Water SRL |
| Status: | Active |
| Web Site: | goldalkalinewater.com |
| phone: | +1 917 909 5707 |
| email: | This email address is being protected from spambots. You need JavaScript enabled to view it. |
| Social Media: |      |
Aur'a natural gold water emerges  in a region called "Gold Hawk Mountain" where since Roman times men have harvested rare precious metal ore. Aur'a is a still water originating from the Ursoanea spring (Ursoanea Valley) located in Ocna de Fier, Caraș-Severin, in the hydrographic basin of Moravița. Aur'a emerges to the surface naturally filtered by sand, gravel, cobble and clay. Crossing a gold and silver underground ore, the water is naturally enriched with colloidal gold and silver. Aur'a is certified as a natural mineral water and the water is not treated or modified by adding or removing any elements. 
"AUR'A" is not just a name. "Aur" comes from the Latin word "aurum" which signifies "gold" and the "A" stands for "argentum", the latin word for "silver" – both vital nanoparticles present in every drop of Aur'a Natural Gold Water. 
Aur'a is a feminine name and the most important element it stands: the woman, who, same as Aur'a, is life giving. Then we have masculine elements, the sun and the king, which exudes supremacy, strength and endurance. A true natural alkaline water, Aur'a springs from deep within the mountain and its place of collection is "glued" to the slope. From here it reaches the bottling line only a few meters away and then straight into the bottle. The water does not suffer any transformation, being only passed through particle filters. 
Virtual Site Visit
Where to Buy
#FineWatersPairings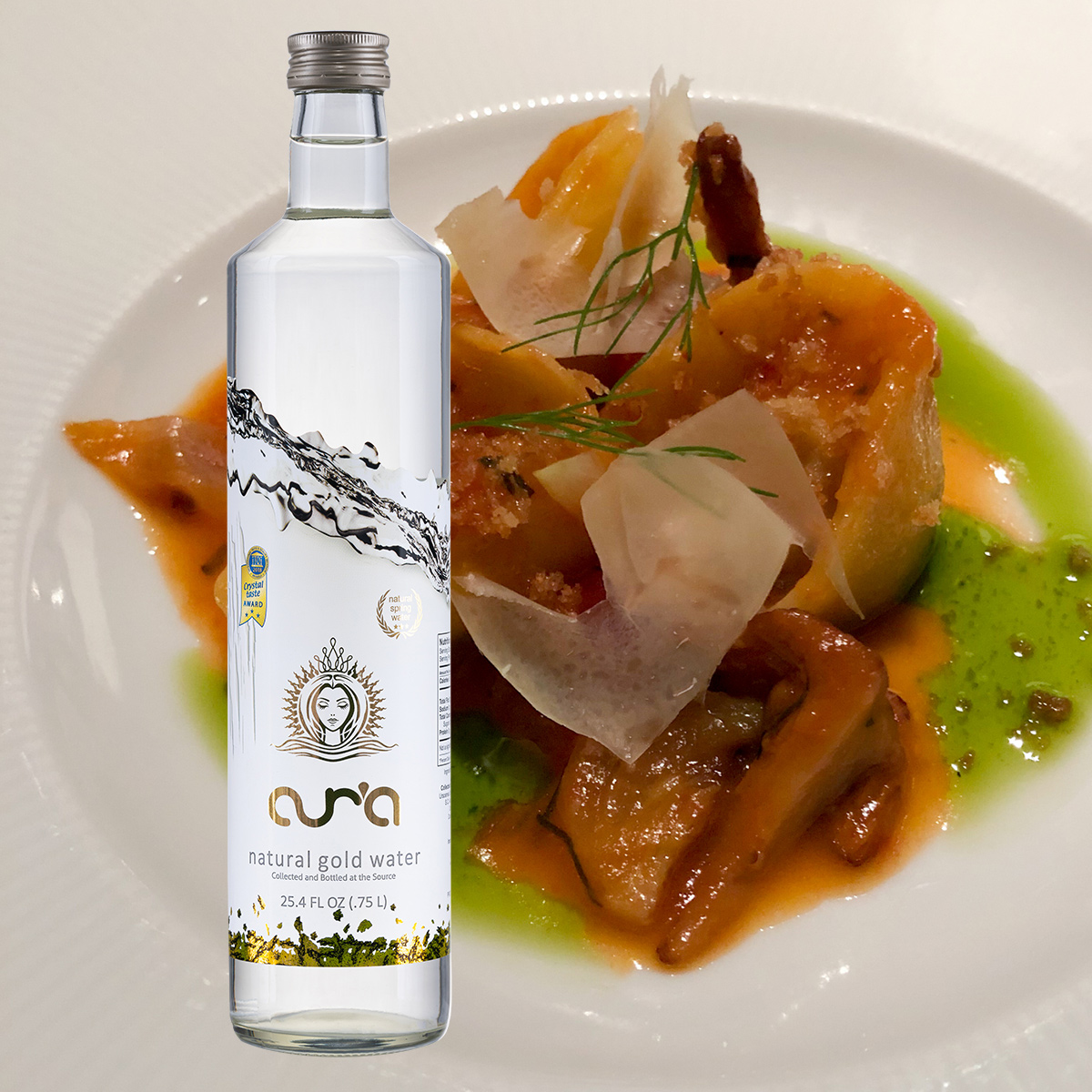 From a recent Tasting menu at Patina in Los Angeles, we had BRAISED VEAL TORTELLINI with cippolini onion, pecorino, chanterelle and white truffles from Alba. These luxurious white truffles invite a luxurious water with a medium minerality and an alkaline pH to stand up to the veal tortellini but not overpower them.
Aur'a natural gold water emerges at the source after crossing a gold and silver underground ore and the water is naturally enriched with colloidal gold and silver. A TDS of about 400mg/l and a pH of 8.25 makes the taste profile of the water perfect for this dish.
Awards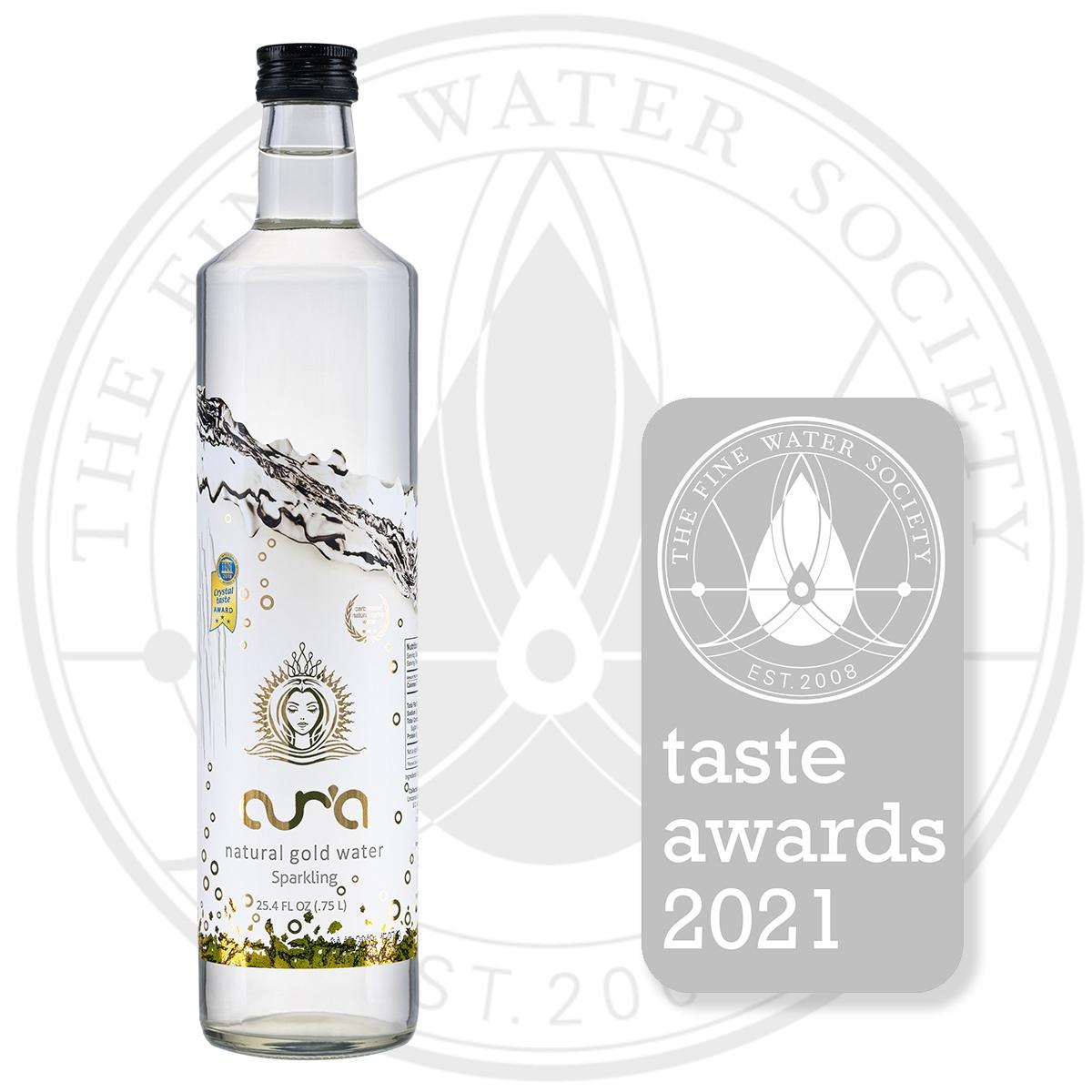 ITQI 3 stars 2016 – Superior Taste
ITQI 3 stars 2017 – Superior Taste ITQI 3 stars 2018 - Crystal Taste
ITQI 3 stars 2019 – Superior Taste
Koser Parve – 2018 si 2019
AVPA 2018 – Gourmet Award
UCCBR – Ambassador product 2017 (3 years valability)
UCCBR – Trust Mark 2017 (3 years valability)