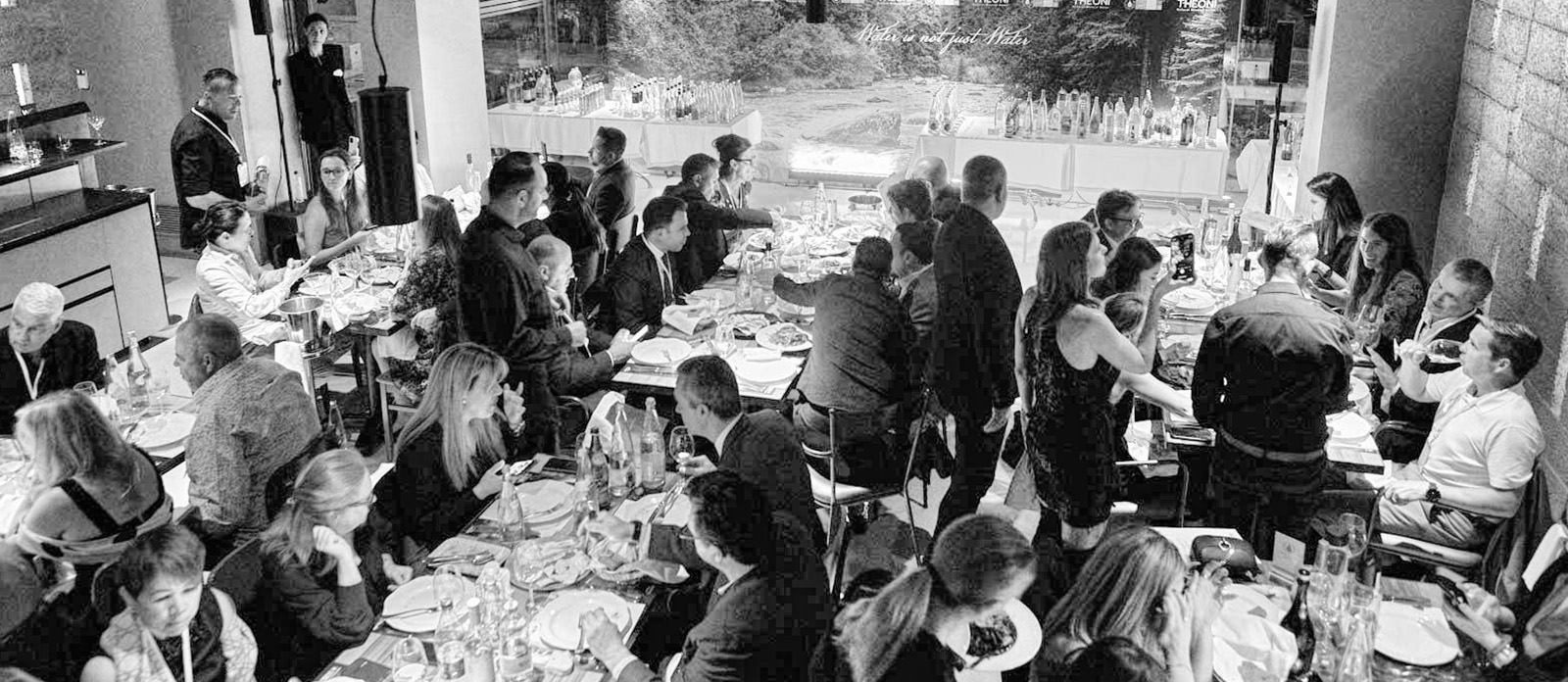 The  was held at Vassilenas in Athens on April 26th, 2023. Vassilenas stasrted as a humble taverna – born in the impoverished neighborhoods of 1920s Piraeus and became a modern, cosmopolitan restaurant in the heart of Athens on Vrasida Street. A culinary story that spans one hundred years. A journey filled with the memories and flavors of family recipes that continue to inspire our cuisine today.
Chef Manos Garnelis has served classic but modern Greek food since the restaurant relocated from Piraeus to Athens. He has singularly lent a refined, contemporary touch to the menu.
The FineWaters Food & Water EXPERIENCE introduces the international audience to Greek food and allows to experience the cuisine with over 100 waters from around the world. This is an overwhelming task, so we asked 12 water sommeliers to curate the experience for the participants.
Every table of about 10-12 people has a water sommelier as a host. The water sommeliers select water for each course, matching and contrasting the food. 
A Theoni martini cocktail is served as a welcome cocktail at the beginning of the event, but no wine or alcohol is served during the dinner. This sounds challenging for some people, but we can say that from a long experience doing these events. No one is missing the alcohol, and alcohol is not necessary to have a great time.
The restaurant buzzes during the event, and you would think people have been consuming alcohol for hours.
Here is the menu of the evening:
Homemade sourdough bread baked in a traditional wood oven
GREEN SALAD / Cherry tomato, arugula, avocado, seasonal greens and herbs 
VASSILENAS TARAMOSALATA/ Fish-roe spread served with crispy pita bread 
SEA BASS CARPACCIO / with citrus fruit vinaigrette 
GRILLED SQUID/ split pea purée, sweet-and-sour samphire greens, cuttlefish ink, "sujuk" dried spicy sausage 
SOFTLY POACHED EGG/ potato mousse, truffle, "apaki" ham from Crete 
ORZO PASTA WITH PRAWNS/ smoked tomato and French parsley 
RISOTTO / Salicornia grilled beetroot 
FRESH FISH CATCH OF THE DAY / Fricassee 
LAMΒ PICANHA / bulgur, aubergine, harissa chili paste, raisin-lemon sauce 
DESSERTS Variety of 2 desserts
 Waters Available for Tasting:
383 The Kopjary Water, Hungary
Aava, India
Antipodes, New Zealand
APSU, Chile
AQUA Carpatica, Romania
Aquene Springs, USA
Åre, Sweden
Avaton, Greece
Bambito, Panama
Beloka Water, Australia
Birrriwa, Australia
Callaway Blue, USA
Carpatina, Romania
Crag, UK
d'ORO, Romania
DOUBIA, Greece
Driftless Fine Water, USA
FOZ, Brazil
Fromin, Czeck Republic
Gaisberg, Austria
Güitig, Ecuador
ISBRE, Norway
ISKLD, Denmark
Jaure, Sweden
Kuohu, Finland
La Sasse, France
Lofoten Arctic Water, Norway
Long Life, Austria
Marzia, Italy
Mountain Falls, South Africa
Neue Water, Denmark
NEVAS, Germany
Nyne, Paraguay
OSE, Norway
Pedras, Portugal
Perla Moldovei, Romania
Perlage, Poland
Pineo, Spain
Pure Mist, Australia
Radenska Kraljevi vrelec, Slovenia
ROI, Slovenia
Sant Aniol, Spain
Sant'Elena, Italy
Sembrancher, Swiss
Socosani, Peru
Splendor, Ecuador
Tesalia, Ecuador
Theoni, Greece
Three Bays, Australia
Thunderbird Spirit Water, Canada
Tradicional (Volcanic Premium), Ecuador
Vellamo, Finland
Vichy Catalan, Spain
Vimeiro, Portugal
Waiākea, USA
Wossa, Austria
ZAKU, Latvia