deVine Water Analysis:
Balance
Still
Virginality
Very Good
Minerality
Low
Orientation
Neutral
Hardness
Moderately Hard
Vintage
 
Carbonation
 
 
 
TDS
160 mg/l
ph factor
6.2
Hardness
76 mg/l
Nitrate
3.9 mg/l
Calcium
22 mg/l
Magnesium
7 mg/l
Sodium
14 mg/l
Potassium
1 mg/l
Silica
14 mg/l
Bicarbonate
48 mg/l
Sulfate
13 mg/l
Chloride
27 mg/l

deVine is a Member of the Fine Water Society
| | |
| --- | --- |
| Source: | Artesian |
| Location: |   |
| Country of Origin: | USA |
| Region: | Oklahoma |
| Place: | Artesian Well on HYW 11 |
| Established: | 2003 |
| Company: | deVine Water, LLC |
| Status: | Active |
| Web Site: | www.devinewater.com |
| phone: | +1 580 626 4420 |
| email: | This email address is being protected from spambots. You need JavaScript enabled to view it. |
| Social Media: |     |
The deVine Natural Artesian Water Source is located in an extremely low populated area partially surrounded by government protected land known as the Great Salt Plains National Wildlife Refuge along OK ST HWY 11. In 2003, this artesian well and the property adjacent was purchased by the McDermott Living Trust from the Brickman Estate. This natural water source is locally known as the "Artesian Well on Highway II".
Located just north of the Great Salt Plains National Wildlife Refuge, the main well was drilled in 1954 and since that time, this thirst quenching water has been available to the public at no charge. The McDermott's formed deVine LLC in 2003 to be the distribution arm for their water business. The McDermotts continue the free access as a means of service to locals and area travelers while still bottling and selling the bottled product for the consumer's convenience.
DeVine water owes it's origin to the last Great Ice Age 15,000 years ago, when clear, pure, pristine glacier waters flowed from the Colorado Ice Fields through northern Oklahoma and southern Kansas. The glacier waters were naturally trapped underground in natures purest groundwater reservoir (natural sandstone) where it was enhanced with healthy minerals stored by Nature from the Ice Age available now for your enjoyment.
#FineWatersPairings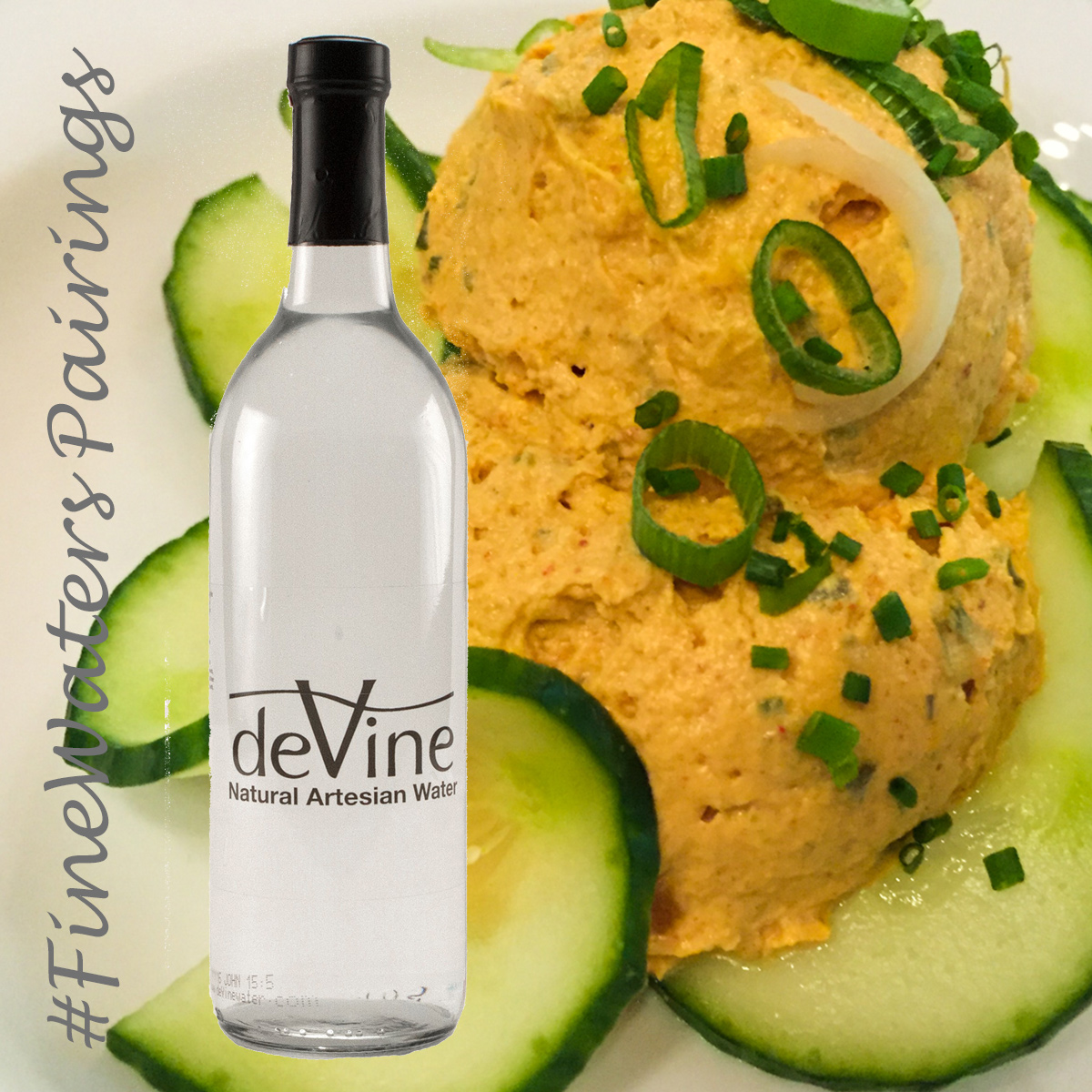 In Austria, Liptauer is a typical snack served at Heurigen, Austrian wine-drinking taverns. Its usually soft sheep's milk cheese with onions, paprika and caraway seeds to be spread on bread. I would prefer a neutral still water with low minerality like the artesian deVine from Oklahoma.