Tradicional Water Analysis:
Balance
Still
Virginality
Superior
Minerality
Low
Orientation
Acidic
Hardness
Hard
Vintage
 
Carbonation
 
 
 
TDS
152 mg/l
ph factor
7,10
Hardness
174 mg/l
Nitrate
0.78 mg/l
Calcium
18 mg/l
Magnesium
13 mg/l
Sodium
19 mg/l
Potassium
< 5 mg/l
Gold
 < 0.005 mg/l
Silver
< 0.05mg/l
Bicarbonate
173 mg/l
Chloride
< 20 mg/l
Silica
72 mg/l

Tradicional is a Member of the Fine Water Society
| | |
| --- | --- |
| Source: | Artesian |
| Location: |   |
| Country of Origin: | Ecuador |
| Region: | Andes |
| Place: | El Murco |
| Established: | 1983 |
| Company: | Volcanic Premium Water VolcanicWater S.A |
| Status: | Active |
| Web Site: |  volcanicwater.ec |
| phone: | +5932 2249269 |
| email: | This email address is being protected from spambots. You need JavaScript enabled to view it. |
| Social Media: |   |
The source of Tradicional lies close to the Psochoa volcano in El Murco at 40km from the capital Quito. The artesian spring was discovered in the 20th century Pericles Gallegos Vallejo and his son Luis Benigno Gallegos Chiriboga. Both men saw the potential and created the first natural mineral still water bottled in plastic available in Ecuador.
Every drop of Tradicional originates in the heart of the Ecuadorian Andes. Starting its journey at nearly 19,000 feet elevation, the water travels across glaciers, flows down volcanoes, and emerges at the source as an artesian spring. The source lies at an altitude of 10,000 feet on the lower slopes of the Pasochoa Volcano. The terroir of the water captures the essence of the region: the páramo landscape with its unique natural and cultural history.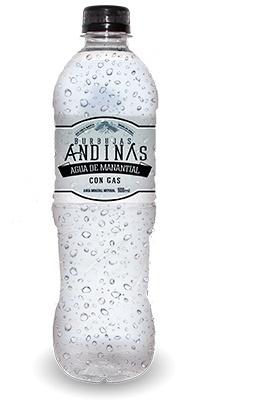 The Burbujas Andinas  brand was recently launched with the same source as Tradicional just with added carbonation.
AWARDS
XX TROFEO DE ORO DE ALIMENTACIÓN Y BEBIDAS DUSSELDORF 1997 ALEMANIA
XVIII TROFEO INTERNACIONAL A LA CALIDAD SAN JUAN 1993 PUERTO RICO
ESTRELLA DE DIAMANTE INTERNACIONAL A LA CALIDAD 1992 MEXICO