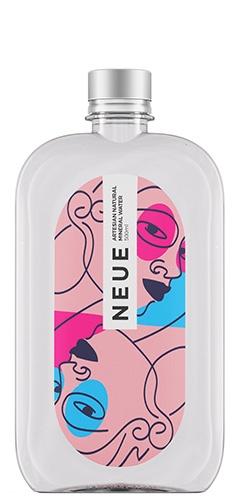 NEUE Water Analysis:
Balance
Still
Virginality
Very Good
Minerality
Medium
Orientation
Hint of Sweet
Hardness
Very Hard
Vintage
 
Carbonation
 
 
 
TDS
330 mg/l
ph factor
7.4
Hardness
227 mg/l
Nitrate
1.6 mg/l
Calcium
81 mg/l
Magnesium
6 mg/l
Sodium
21 mg/l
Potassium
2 mg/l
Silica
22
Bicarbonate
249 mg/l
Sulfate
27 mg/l
Chloride
32 mg/l

NEUE Water is a Member of the Fine Water Society
| | |
| --- | --- |
| Source: | Artesian |
| Location: |   |
| Country of Origin: | Denmark |
| Region: | Aabenraa |
| Place: | Krusmolle Kilde |
| Established: | 2022 |
| Company: | NEUE Water |
| Status: |  Active |
| Web Site: |  neuewater.com |
| phone: |  +447429012239 |
| email: | This email address is being protected from spambots. You need JavaScript enabled to view it. |
| Social Media: | |
NEUE Water is bottled just meters from the source in Krusmølle, Denmark. The reservoir is located in an undisturbed forest and protected by a natural layer of impermeable rock and clay, ensuring crystal clear water with a refreshing taste. The water comes directly from the aquifer to the bottle with no human contact, meaning it is free from contaminants. The certified natural mineral water has a soft, rounded flavor due to the mineral composition and a neutral pH. 
NEUE Water is a luxury bottled water brand that's different—consciously created to fit jean pockets, the seatback storage of a train or plane, and for the first time, the small handbag of every woman on the planet. Every bottle is also made with 100% recycled plastic, filled with artesian mineral water from Denmark, and features artist-designed labels created on 100% recyclable material.

Awards: