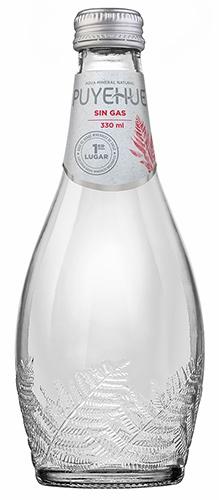 Puyehue Water Analysis:
Balance
Still, Effervescent & Light
Virginality
Superior
Minerality
Low
Orientation
Alkaline
Hardness
Soft
Vintage
 
Carbonation
Added
Temperature
86°F (30.0°C)
TDS
218 mg/l
ph factor
8.5
Hardness
6.95 mg/l
Nitrate
1 mg/l
Calcium
2.3 mg/l
Magnesium
0.3 mg/l
Sodium
49 mg/l
Potassium
2 mg/l
Silica
8 mg/l
Bicarbonate
47.3 mg/l
Sulfate
36.76 mg/l
Chloride
38.66 mg/l

Puyehue is a Member of the Fine Water Society
| | |
| --- | --- |
| Source: | Spring |
| Location: |   |
| Country of Origin: | Chile |
| Region: | Andes Mountain |
| Place: | Puyehue National Park |
| Established: | 1941 |
| Company: | Embotelladora Agua Mineral Puyehue S.A. |
| Status: | Active |
| Web Site: | www.aguaspuyehue.cl |
| phone: | +56 2 339 2263 |
| email: | This email address is being protected from spambots. You need JavaScript enabled to view it. |
| Social Media: |     |
Puyehue Mineral Water is a thermal mineral water, from a spring located 70 kilometers from the city of Osorno, in the south of Chile, toward Los Andes mountain range, at the foot of the Puyehue volcano. The origin of the water is an aquifer below the Patagonian Andean at a depth of 565 ft (172 meters).
Historical eruptions originally attributed to Puyehue, including major eruptions in 1921-22 and 1960, are now known to be from the Cordón Caulle rift zone. The Cordón Caulle geothermal area, occupying a 6 x 13 km wide volcano-tectonic depression, is the largest active geothermal area of the southern Andes volcanic zone.
The philosophy of Puyehue is to allow consumers to appreciate and to enjoy a premium water brought directly from nature, to the table.
Awards