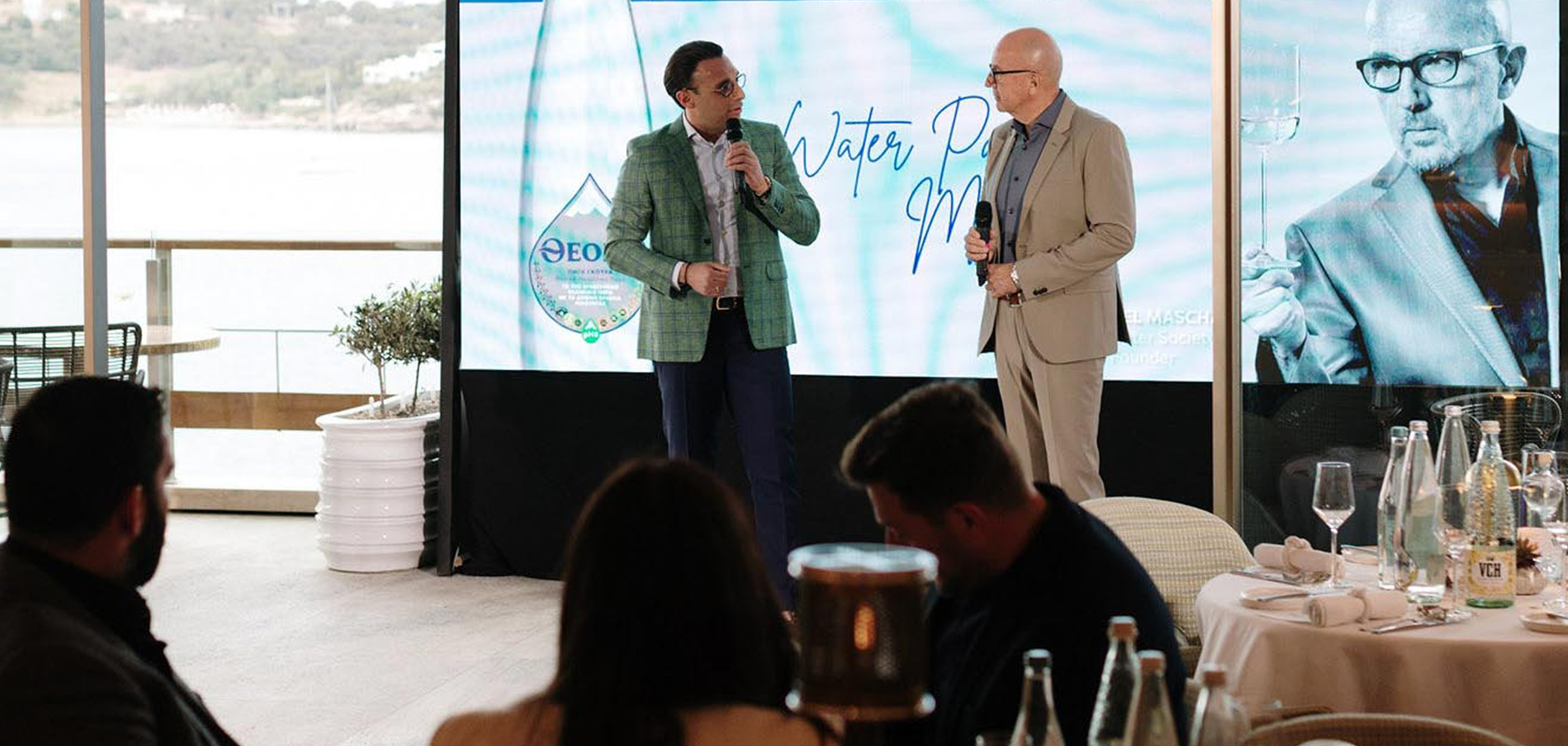 Dimitris Tselios, Founder of Theoni and Michael Mascha, FineWaters
We have created a 5-course food and water pairing dinner at the Michelin-starred Pelagos Restaurant at the Four Seasons, with chef Luca Piscazzi featuring world-class Fine Waters.
A surprising experience for the uninitiated is that FineWaters can be matched with food and that no alcohol is served at the dinner. The absence of wine allows a focus on the food and water and creates an atmosphere where almost nobody misses alcohol.
To enjoy the waters in a water & food pairing context, all the waters need to be at room temperature. If you drink water too cold, like straight out of the fridge, the taste of the water will not reveal itself.
In a food & water pairing event, Minerality and Carbonation are very important factors. Only if you pay attention will you also notice that waters with added carbonation get more acidic due to the impregnation with CO2.
In food & water pairings, the weight of the water is very important and described in terms of TDS (Total Dissolved Solids). Low TDS waters pair with subtle foods, and the more powerful the dishes become, so should the water's TDS increases for a perfect pairing.
MEDIA COVERAGE:
Martini Cocktail [FineWaters]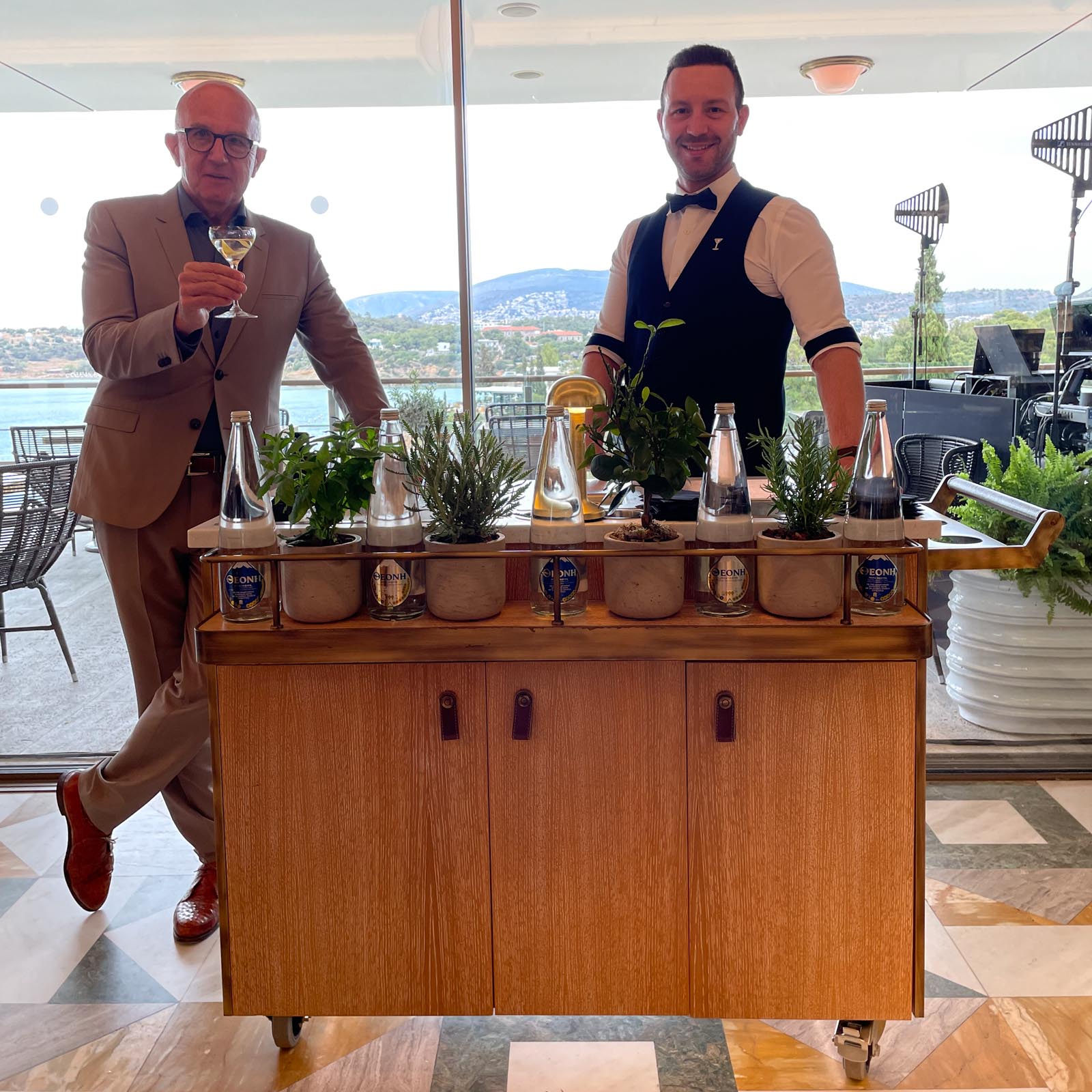 The biggest challenge in conducting a water & food pairing dinner is the perception that you need wine/alcohol to have a great evening. We have created a great cocktail to ease people into drinking water for 3 hours.

Here is the recipe for the #FineWatersMartini, a straightforward solution to create the perfect dry martini, neither shaken nor stirred, as it is produced without ice. All you have to remember is 5:1.
5 parts Premium Vodka | 1 part Premium Water | Lemon twist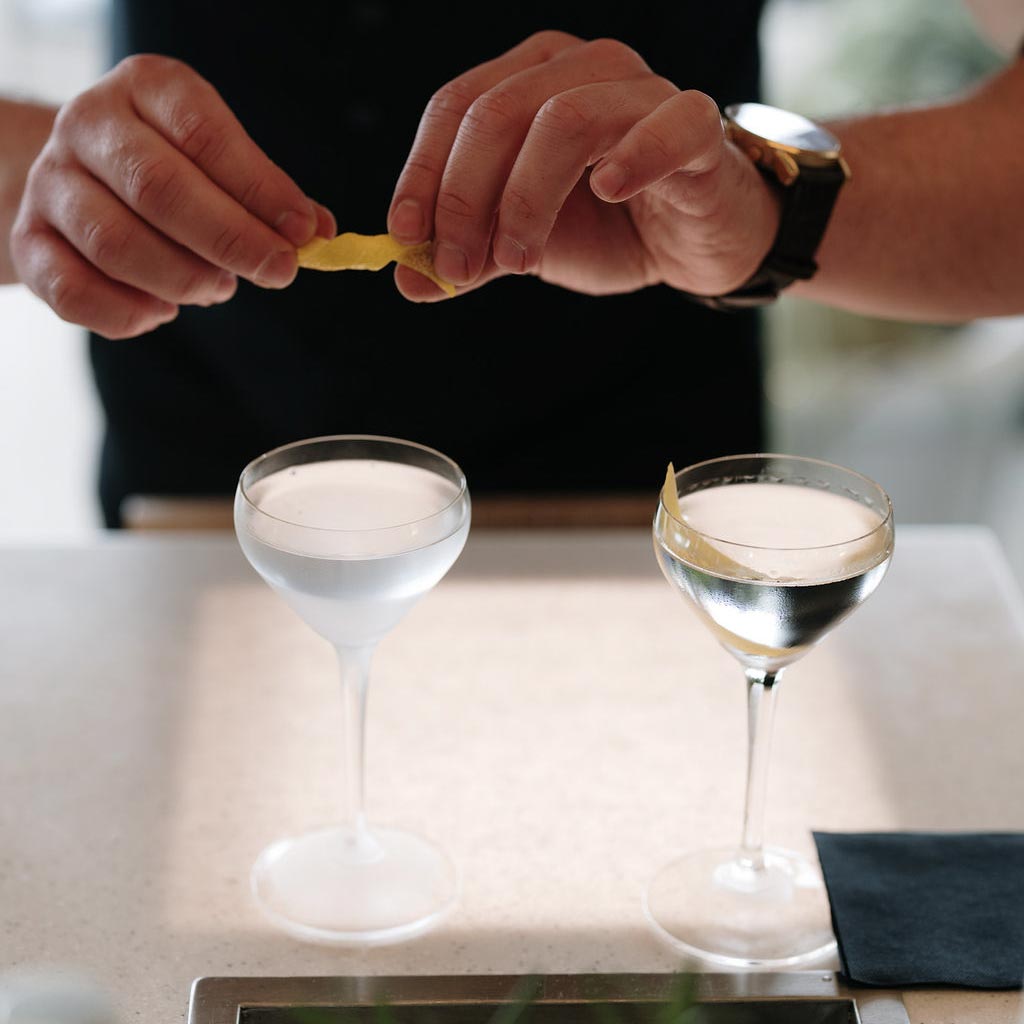 Combine vodka and water in a water/vodka bottle and put it in the freezer. Don't worry; due to the alcohol content, it won't freeze. When your guests arrive, pour in a martini glass ice cold straight out of the freezer and add a lemon twist.

The super-cold cocktail has a great silky texture, as you cannot reach those temperatures with shaking or mixing. It has a super clean and crisp taste, and you can serve many guests efficiently with an exciting high-quality cocktail.
 RED PRAWN [AS IS]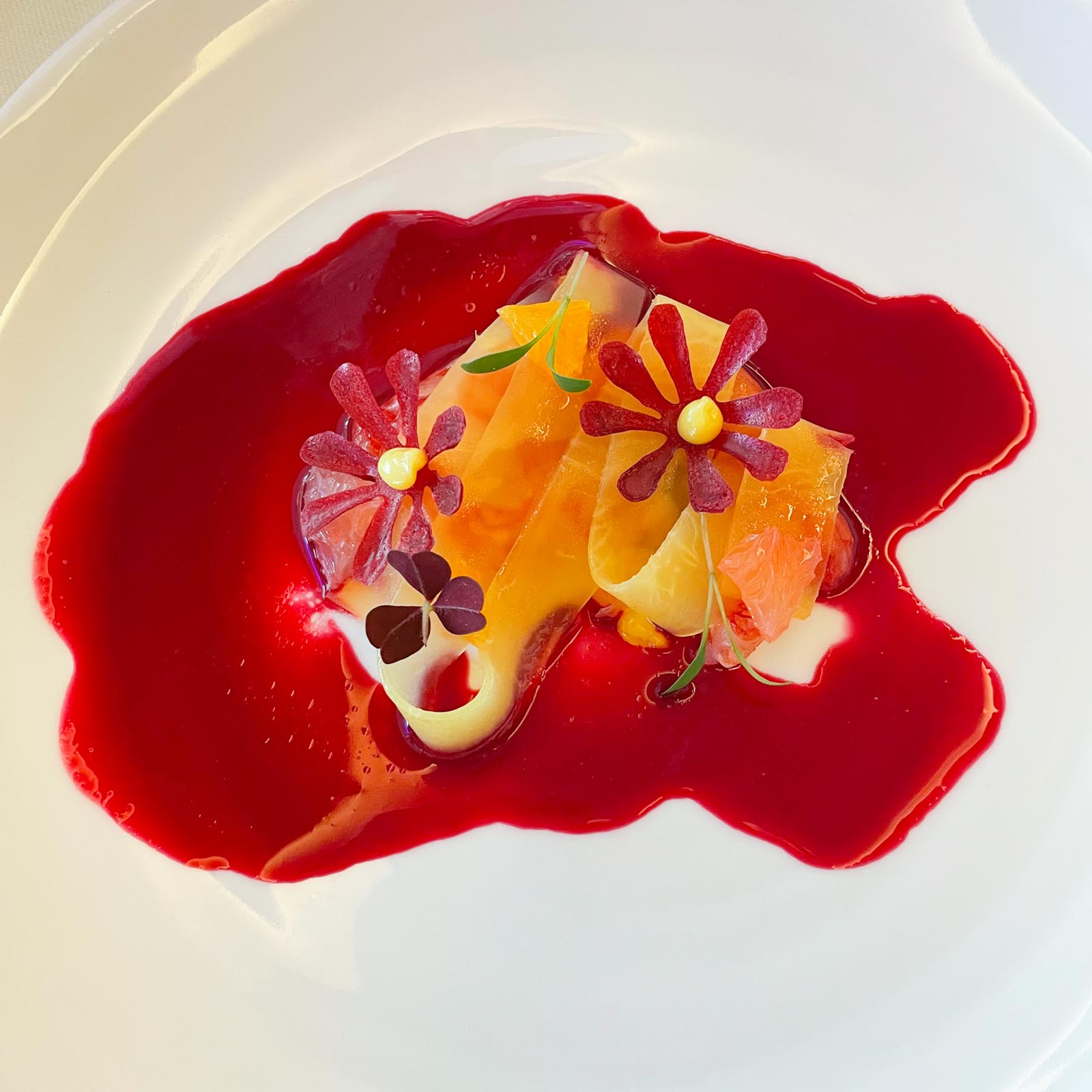 For the FIRST COURSE chef Luca Piscazz and his team created RED PRAWN [AS IS] with yellow beetroot, citrus, saffron, cloves, and beeswax. My recommendation for this course is WOSSA, super low Minerality water from Austria with a TDS of only 13 mg/l. The soft, neutral, and light water pairs perfectly with the subtle taste of the raw prawn.
CAVIAR [PASTA]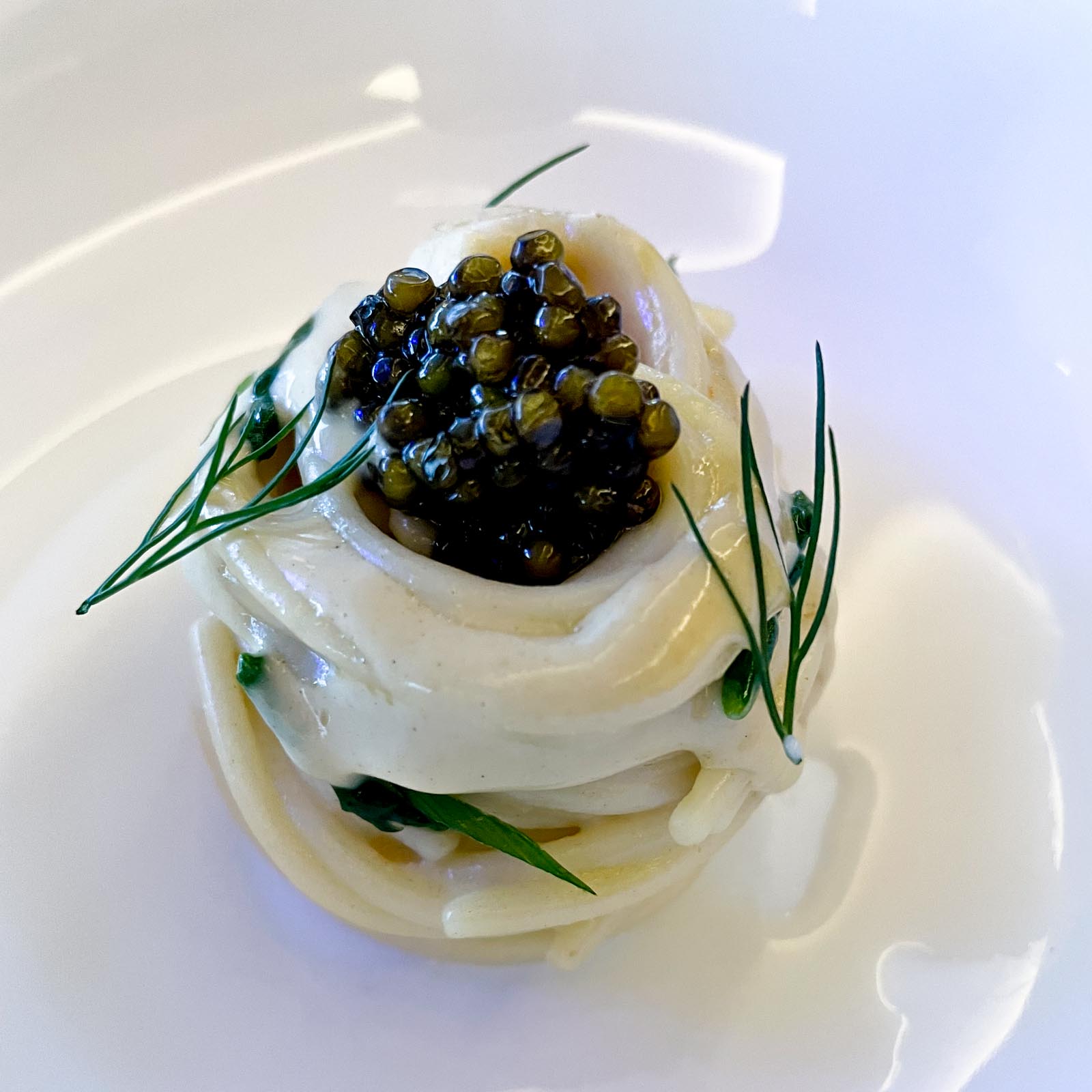 For the SECOND COURSE, the Chef created CAVIAR [PASTA] with cold Setaro spaghetti, clam emulsion, almonds, and bronze fennel. My recommendation for the course is THEONI STILL as this dish needs a soft, silky, low minerality water with a delicate weight. This was a surprisingly effective pairing and had a lot to do with the character of the water that could express itself due to serving it at room temperature.
YELLOWTAIL [MI-CUIT]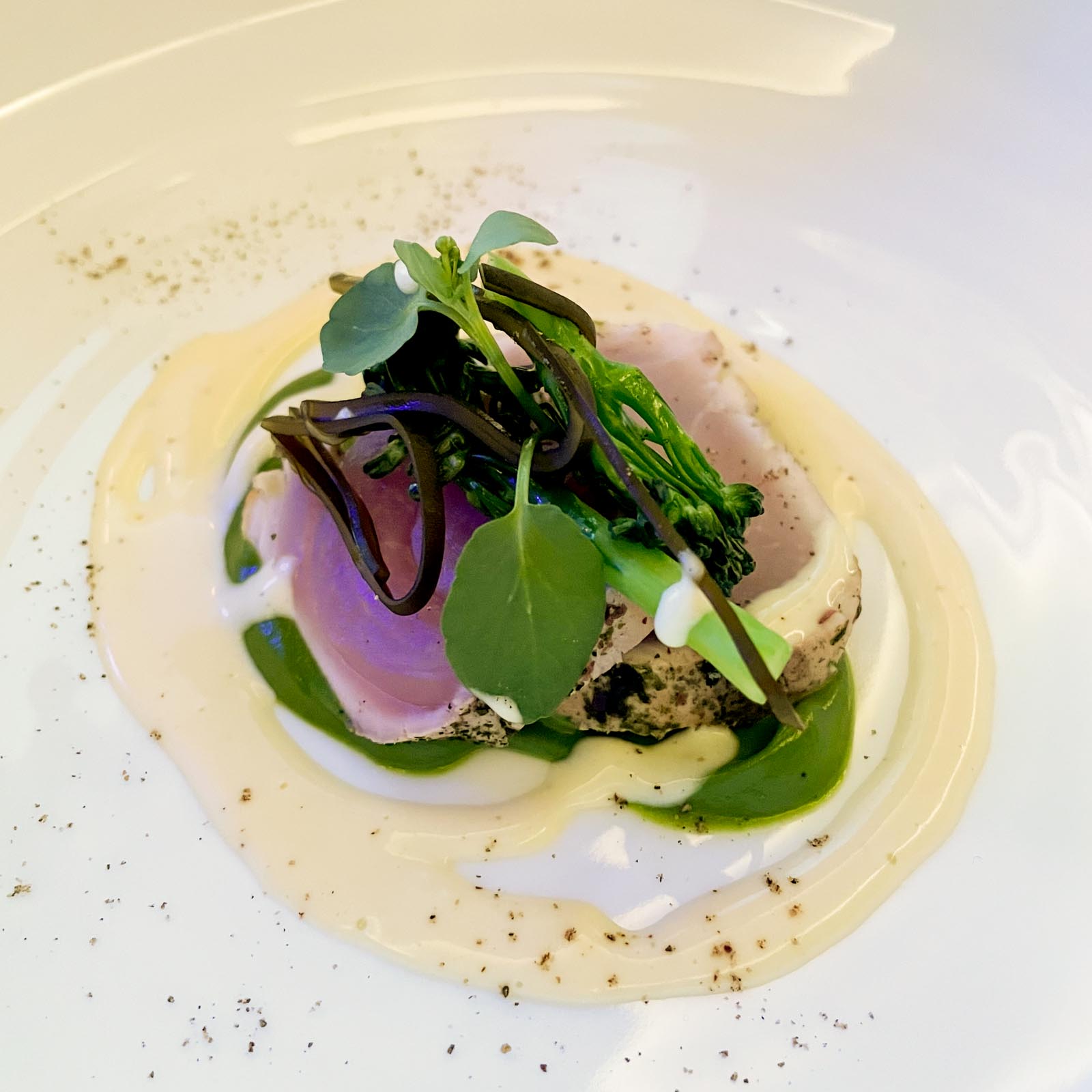 The THIRD COURSE is. YELLOWTAIL [MI-CUIT] with wagyu fat, seaweed, broccolini, and carbonara source. I am using the additional acidity of THEONI SPARKLING to cut through the wagyu fat and provide some acidity to the "half-cooked" fish presentation and provide some mouthfeel. This pairing also shows nicely how different still and carbonated water tastes at room temperature when you pay attention.
WILD SEA BASS [DRY AGED]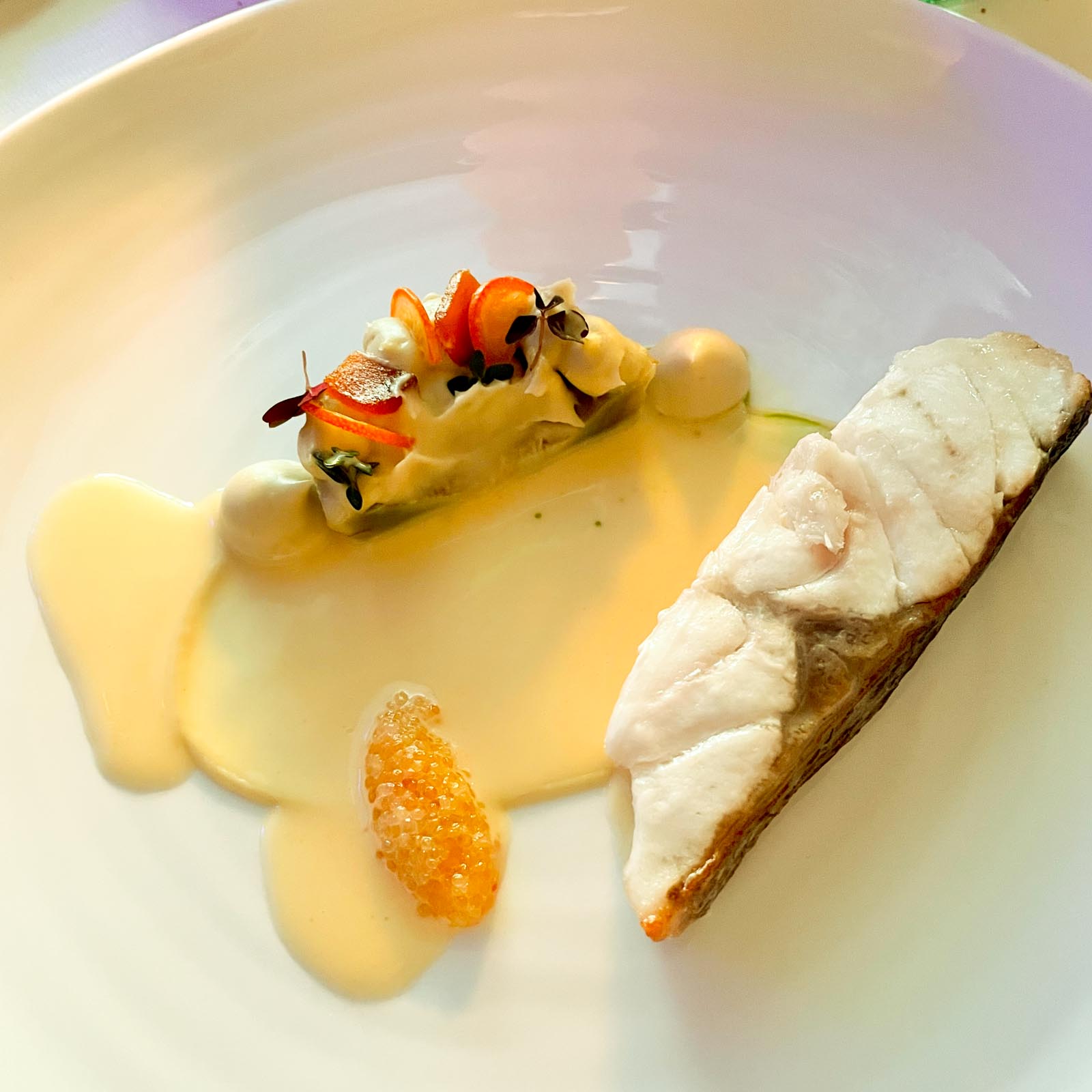 For the FOURTH COURSE, the Chef and his team used a novel method of dry-aging fish. WILD SEA BASS [DRY AGED] with mastiha artichoke, smoked pike caviar, and kumquat. This stronger, more umami drive dish requires full-bodied water with a high TDS and a creamy texture, exemplified by Three Bays Still from Australia.
CHOCOLATE [TEXTURES]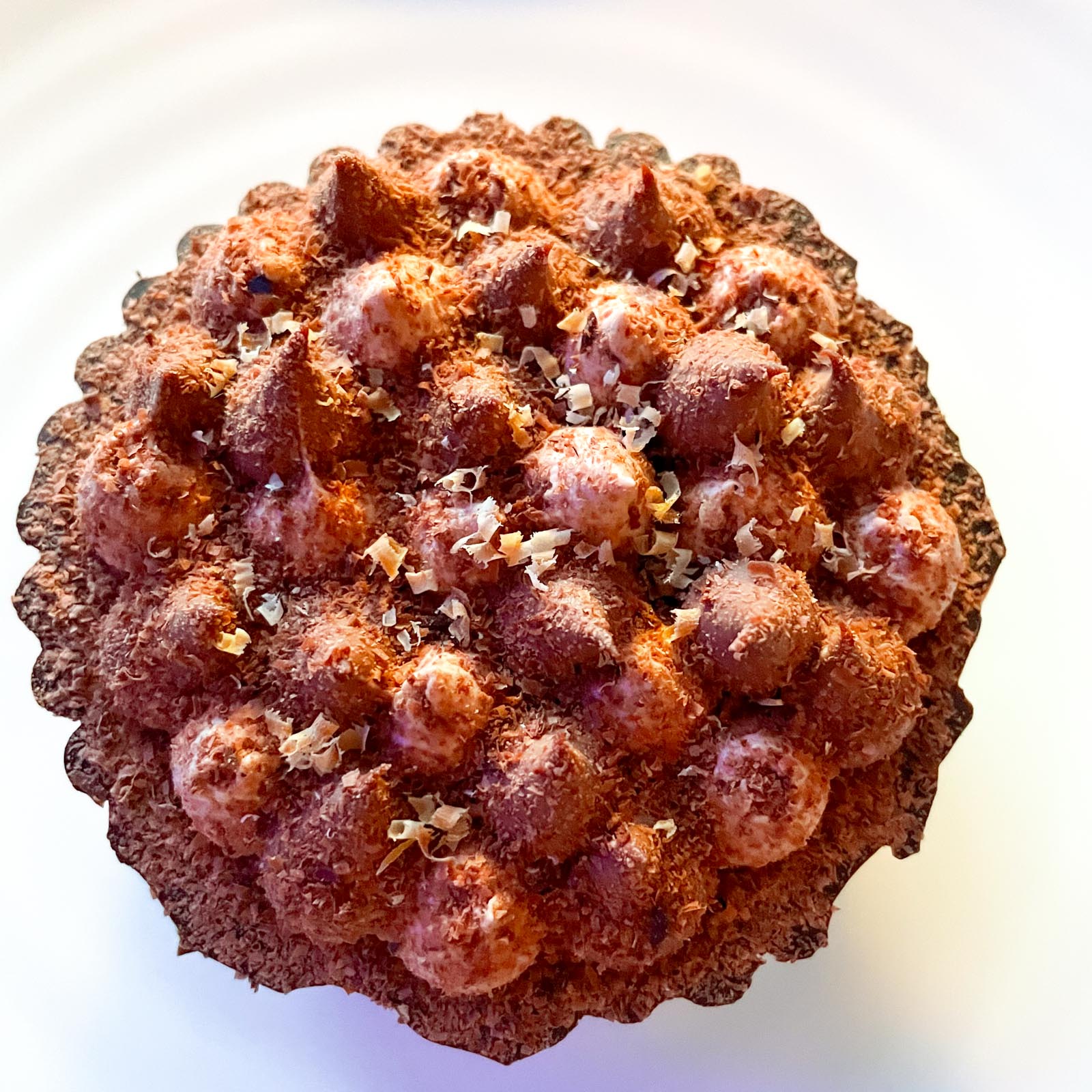 Desserts are difficult to match with water except for dark chocolate. For the DESSERT COURSE Chef, Luca Piscazz with his team presented CHOCOLATE [TEXTURES] with chocolate gelato, mandarin, and tonka beans. Dark chocolate matches very well with high minerality waters with high sodium content. Those waters are often naturally carbonated, which contrasts nicely with the creamy texture of many chocolate desserts. Vichy Catalan from Spain was selected for this tasting, and it was a surprising pairing for many.
Fine Water Gift Bag [THEONI]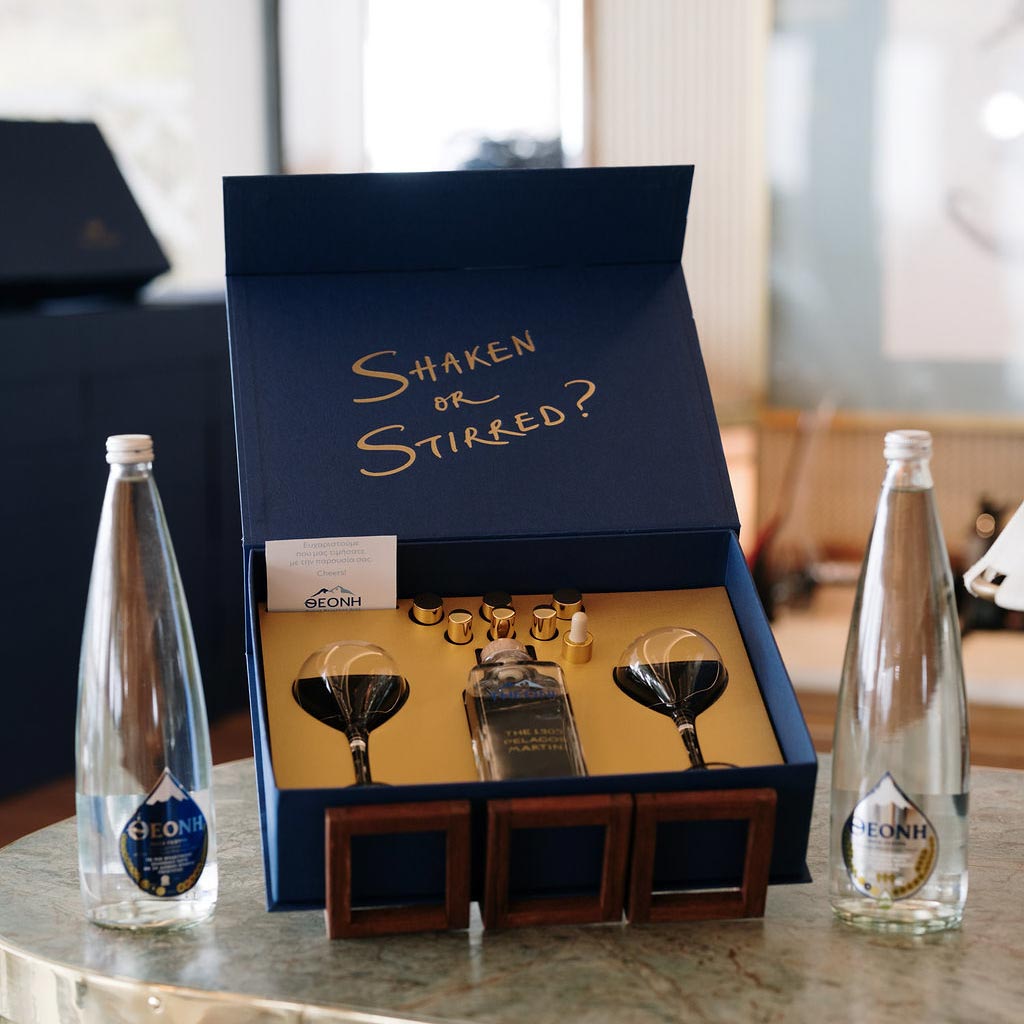 Fine Water is not just for Hydration. Fine water is a natural product, has terroir, and holds experiences. Fine Water brands are well advised to extend the brand perception beyond hydration, as Thenon @theoninaturalmineralwater did by first serving the Fine Waters Martini featuring Theoni and providing a gift bag with the water vodka mixture. The great experience at the tasting will now be shared, creating additional visibility.