SwissMountain Water Analysis:
Balance
Still & Light
Virginality
Superior
Minerality
High
Orientation
Neutral
Hardness
Very Hard
Vintage
 
Carbonation
Added
 
 
TDS
988 mg/l
ph factor
7.2
Hardness
713 mg/l
Nitrate
0.1 mg/l
Calcium
226 mg/l
Magnesium
37 mg/l
Sodium
5 mg/l
Potassium
2 mg/l 
Silica
7 mg/l
Bicarbonate
239 mg/l
Sulfate
480 mg/l
Chloride
5 mg/l

SwissMountain is a Member of the Fine Water Society
| | |
| --- | --- |
| Source: | Spring |
| Location: |   |
| Country of Origin: | Switzerland |
| Region: | Central Switzerland |
| Place: | Termen, Valais |
| Established: | 2007 |
| Company: | SwissMountain International |
| Status: | Active |
| Web Site: | www.swissmountain.swiss |
| phone: | +41 (0) 22 860 11 88 |
| email: | This email address is being protected from spambots. You need JavaScript enabled to view it. |
| Social Media: |    |
SwissMountain originates from the heart of the SWISS ALPS, not far from the world-famous resort village of Zermatt. The source is a natural spring, fed by a high Alpine reservoir 60 meters below ground, well-protected by the earth's soil and sedimentation dating back to the last ice age. Rain and snowmelt filter through the glacier-topped mountains of the Swiss Alps, and during its long journey through loose rock and gravel deposits from the last ice age, the water takes on its very own character. The water is finally captured in the aquifer in a layer of glacier rocks. At the source, the water flows evenly at a constant temperature of about 10 degrees Celsius and is captured into a sealed modern production system that places the water directly into the 100% recyclable and high-quality PET bottles.
The virtually 'Zero Nitrates, Zero Uranium' water analysis indicates an excellent unspoiled source. SwissMountain is bottled in partnership with giant SWISS COOP, a major Swiss retail, and food cooperative – a corporation of excellence.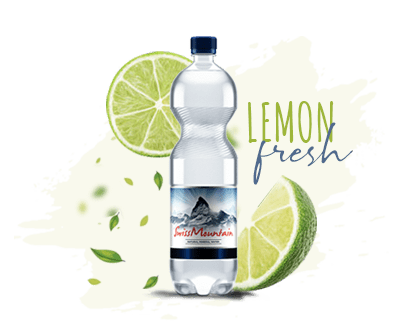 SwissMountain has adopted a 'multiple brand strategy', i.e., in addition to natural and sparkling versions, SwissMountain is also offering natural, sugar-free, and vegan flavored water under the SM umbrella. The lemon-flavored water, certified by Bio Suisse, is a calorie-free refreshment flavored with sun-ripened Sicilian lemons. Other flavors include orange and mint.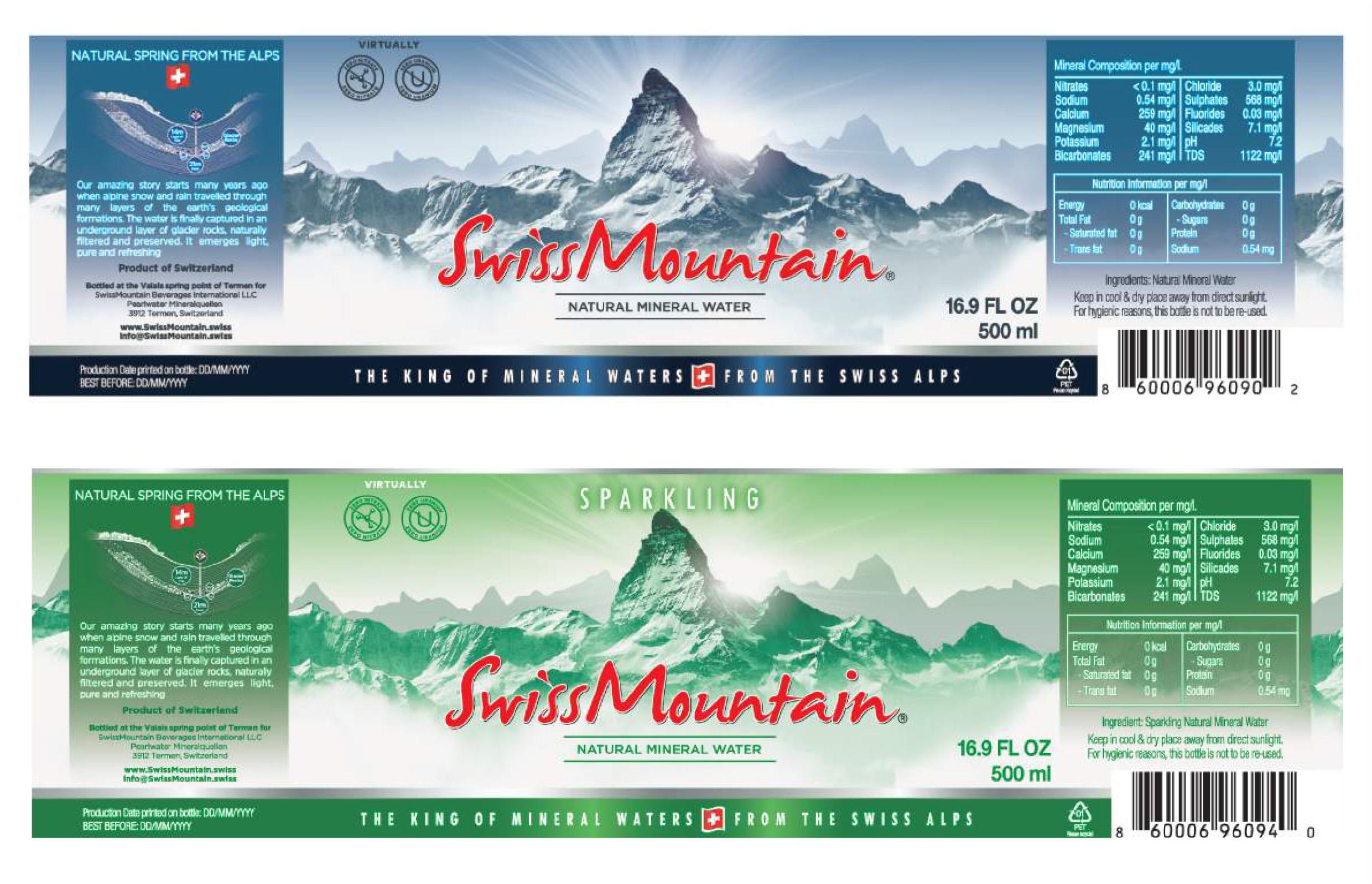 #FineWatersPairings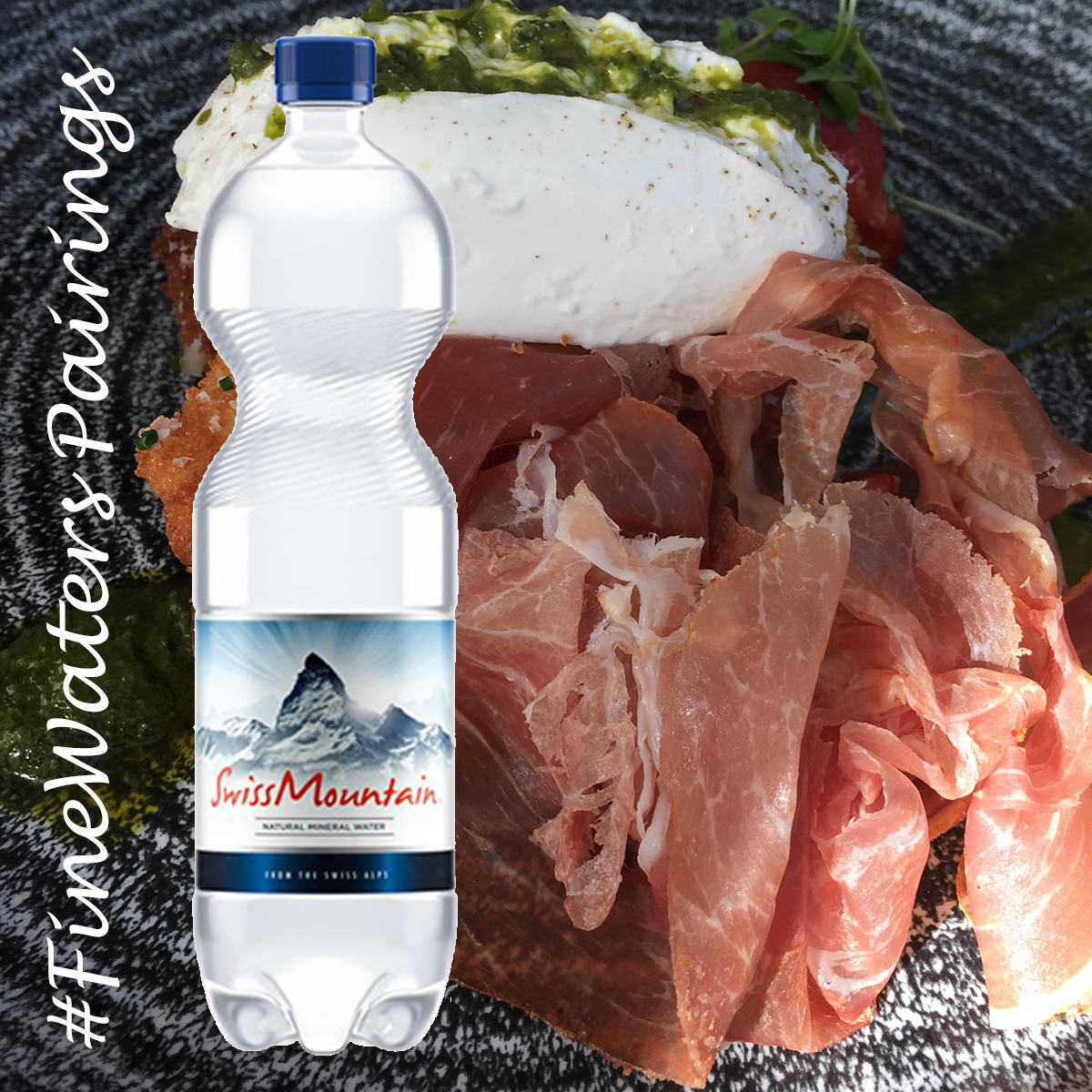 Prosciutto and similar cured meats require a water with a neutral but harder water with ample Minerality. A TDS of about 1000 mg/l like in SwissMountain would be my ideal choice. My personal choice would be the sparkling version for some texture but both still and sparkling would work very well.