MAGNIFICAT Water Analysis:
Balance
Light
Virginality
Very Good
Minerality
Low
Orientation
Acidic
Hardness
Slightly Hard
Vintage
 
Carbonation
 Natural
 
 
TDS
241 mg/l
ph factor
5.1
Hardness
41 mg/l
Nitrate
1.6 mg/l
Calcium
7 mg/l
Magnesium
5 mg/l
Sodium
23 mg/l
Potassium
8 mg/l
Silica
85 mg/l
Bicarbonate
86 mg/l
Sulfate
4 mg/l
Chloride
19 mg/l

MAGNIFICAT is a Member of the Fine Water Society
Source:
Artesian
Location:
 
Country of Origin:
Portugal
Region:
Azores Archipelago
Place:
Serra do Trigo.
Established:
1890
Company:
Promineral SA
Status:
Active
Web Site:
www.magnificat-water.com
phone:
+351 249 83 366
email:
j

This email address is being protected from spambots. You need JavaScript enabled to view it.

Social Media:
  
The Archipelago of the Azores, part of Portugal, is located far out in the North Atlantic Ocean, well insulated of the planet's growing pollution.  St. Miguel island alone, where the source is located, holds 6 volcanic complexes along many natural treasures. One of such treasures is the unique aquifer deep inside and around the Furnas volcanic complex, on the far east of the island. An immense volume of naturally purified still and sparkling waters is kept protected from all planetary sources of pollution.
Magnificat is the Latin expression for "My Soul magnifies the Lord". The name was used to baptize the sparkling water born out of the Furnas dormant volcano. The baptism name of this special and unique water source has its origins in the 18th century.  
Magnificat is naturally carbonated at a depth of at least 90 meters and at temperatures below 8º C. This process, entirely natural and steady state along all year gives birth to its ultra-smooth and persistent fine carbonic bubbles. It is also a very light water for a naturally carbonated water, with only 241 mg/L of total mineral residue, on average. More than 1/3 of its minerals is naturally dissolved Silica, a compound scientifically proven beneficial for human health at many levels, especially to the regeneration of human tissue walls, such as the brain, heart, liver, arteries, cartilage and bones. One of the very few ways for the human body to absorb Silica is precisely through natural water dissolution.
Where to Buy
#FineWatersPairings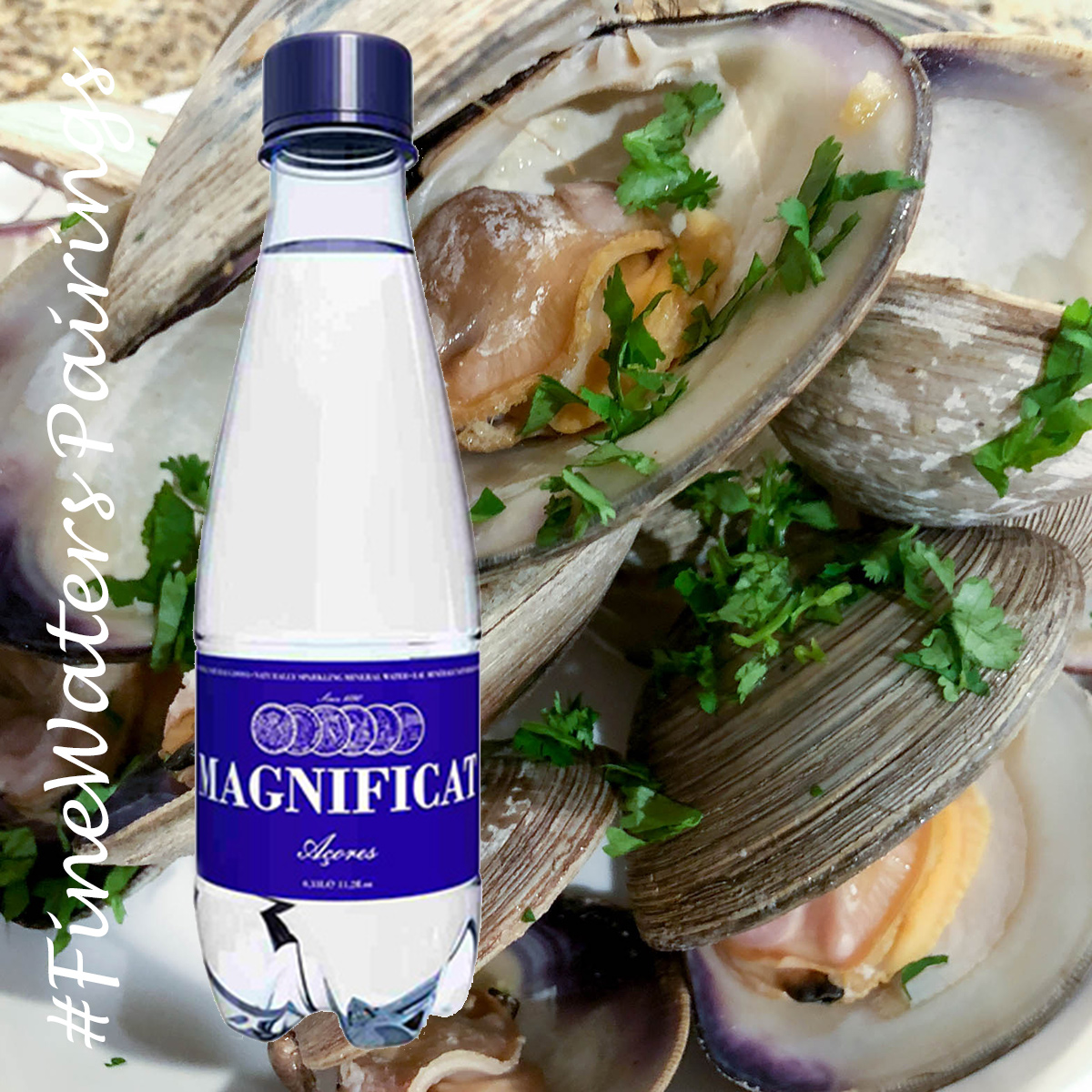 @magnificatwater is a natural carbonated water from the Azores, Portugal. It has only a TDS of 240 mg/l and almost no sulfates. It is a delight with seafood as in this case steamed mussels.
The water is filtered through several different layers of volcanic porous and less porous rocks and  "sees" the light of day for the first time in thousands of years when it is bottled at the source.
Awards