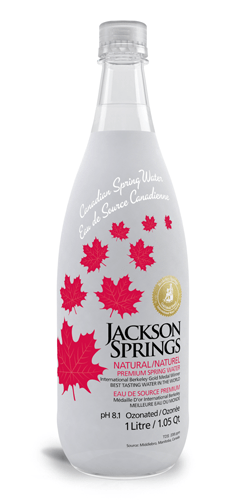 Jackson Springs Water Analysis:
Balance
Still
Virginality
Superior
Minerality
Low
Orientation
Alkaline
Hardness
Hard
Vintage
 
Carbonation
 
 
 
TDS
238 mg/l
ph factor
8.1
Hardness
158 mg/l
Nitrate
0.19 mg/l
Calcium
42.1 mg/l
Magnesium
13.2 mg/l
Sodium
ND
Potassium
1.3 mg/l
Silica
 
Bicarbonate
210 mg/l
Sulfate
ND
Chloride
0.5 mg/l
 
| | |
| --- | --- |
| Source: | Spring |
| Location: |   |
| Country of Origin: | Canada |
| Region: | Manitoba |
| Place: | Middlebro |
| Established: | 2004 |
| Company: | Jackson Springs Water Corporation |
| Status: | Inactive |
| Web Site: | www.jacksonspringspremium.com |
| phone: | +1 204 889 2837 |
| email: | This email address is being protected from spambots. You need JavaScript enabled to view it. |
| Social Media: |     |
Jackson Springs Water is a premium natural spring water sourced from a private aquifer secluded in the heart of three provincial forests in South-Eastern Manitoba, Canada. The aquifer is remnants of the last ice age and over 13,000 years old. The water is naturally filtered through the pristine rocky Canadian terrain and ready for consumption directly from the source. The natural filtration provides a LOW Minerality profile and a natural alkaline pH of 8.1.
The new unique one litre (1L) bottle design offers the elegant look and feel of glass with a functional shatterproof construction. The design was among the best in the world for bottle designs at the 2016 Berkeley Springs International Water Tasting competition. The award winning design allows customers to take Jackson Springs Water in areas where glass may be restricted. The premium one litre bottle design has been exclusively designed for five-star resorts, fine dining restaurants, upscale spas and pools, casinos, and for those who demand a high-end presentation with the safety of PET.
In 2012, Jackson Springs Water won the Gold Medal for best tasting water in the world at the Berkeley Springs international Water Tasting competition.
#FineWatersPairings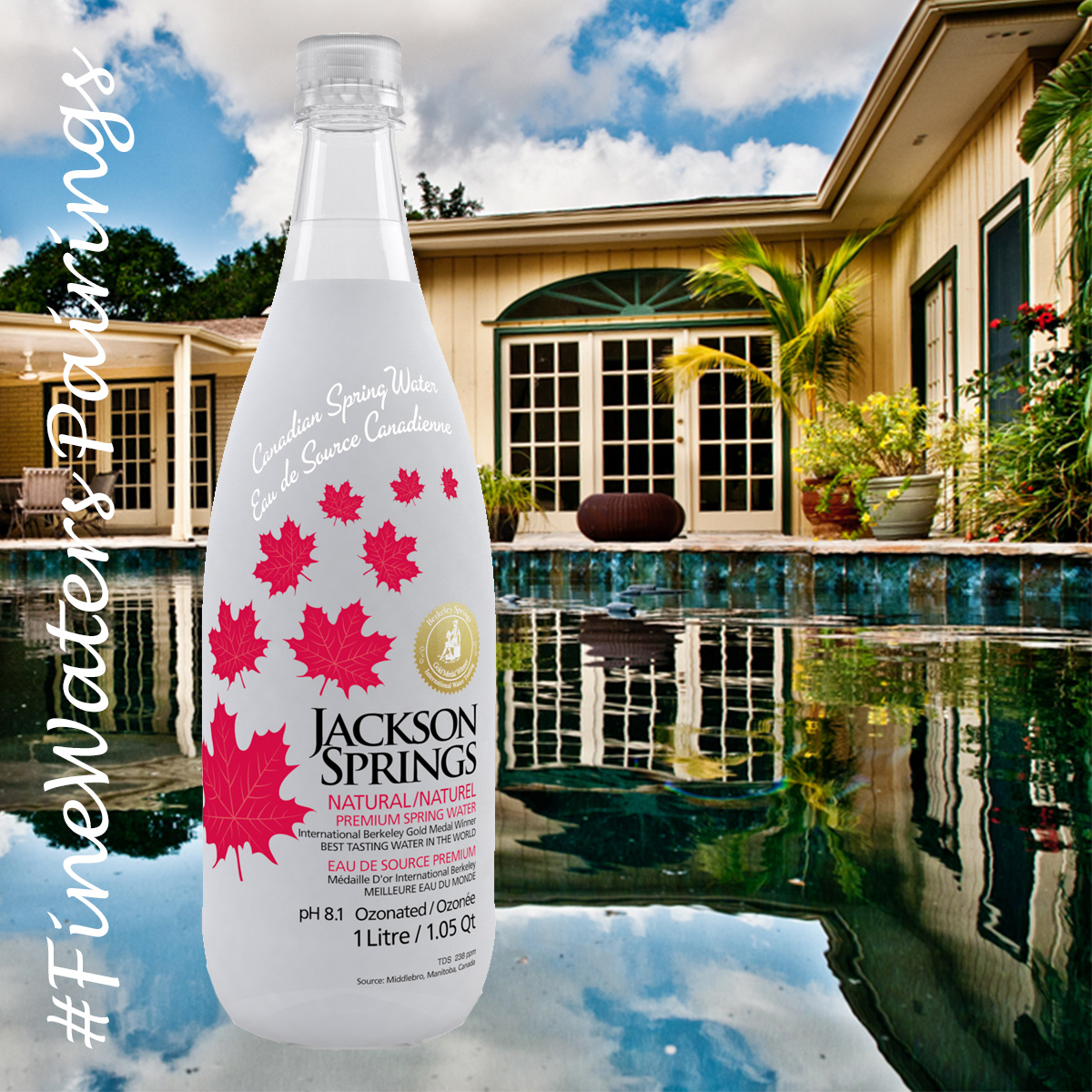 Sometimes PET is the only option and if this is the case a premium PET presentation like Jackson Springs would be a good choice for the pool.
Where to Buy
Awards