Genesis Water Analysis:
Balance
 Still
Virginality
 Superior
Minerality
 Super Low
Orientation
 Alkaline
Hardness
 Soft
Vintage
 
Carbonation
 
 
 
TDS
 9 mg/l
ph factor
 9.4
Hardness
 0.23 mg/l
Nitrate
 ND 
Calcium
0.06  mg/l
Magnesium
 0.02 mg/l
Sodium
 6.1 mg/l
Potassium
 0.1 mg/l
Silica
 
Bicarbonate
 19 mg/l
Sulfate
 0.1 mg/l
Chloride
 0.1 mg/l

Genesis is a Member of the Fine Water Society
| | |
| --- | --- |
| Source: | Well |
| Location: |   |
| Country of Origin: | Paraguay |
| Region: | Itapua |
| Place: | Kressburgo |
| Established: | 2016 |
| Company: | Frutika SRL |
| Status: | Active |
| Web Site: | www.frutika.com.py |
| phone: | +595 672 420 010 |
| email: | This email address is being protected from spambots. You need JavaScript enabled to view it. |
| Social Media: |     |
The Natural Mineral Water comes from a 1,030 meters deep well and from a geology of ancient volcanic basalt. Because of the depth of the aquifer, it is protected from any outside contamination. Being a natural alkaline water it has a high PH level of about 9 and a low mineral content. The well was drilled in 2008, the bottling plant started 2015 and was finished 2016 when production started. The water is bottled at the source and has a Kosher Certificate.
The Kress family owns the land since 1977. The well is placed in the middle of an organic citriculture and only a limited quantity of 10.000 liters per hour is extracted.
#FineWatersPairings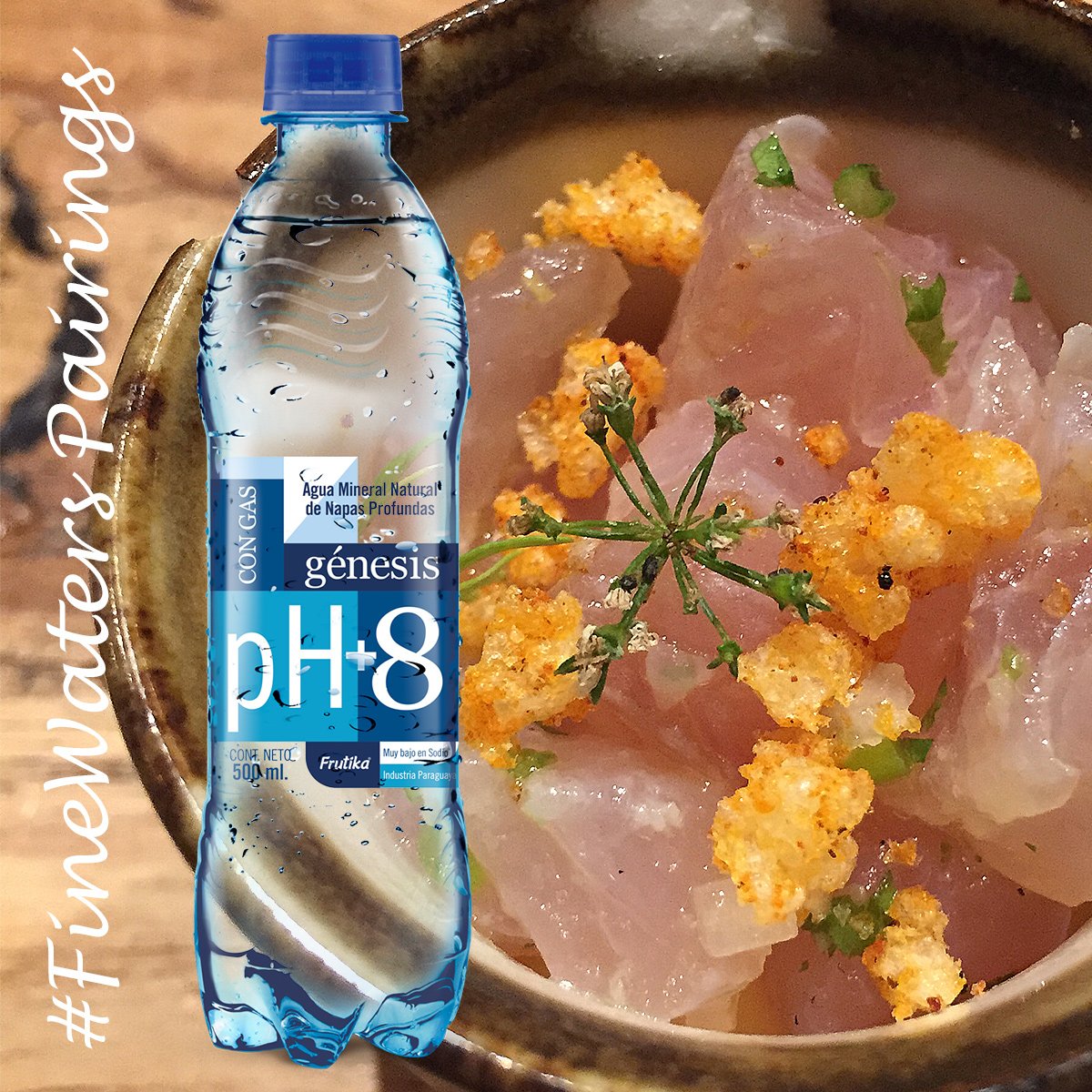 With a dish like Red Gulf Snapper ceviche with popcorn I want a Super Low Minerality water and that usually means exotic sources like iceberg or glacier. Genesis is an interesting artesian water from Paraguay with a super low TDs of 9mg/l and with some alkalinity and I would pair it with this dish. Would also like to see a glass presentation for this water.
Where to Buy Genesis: