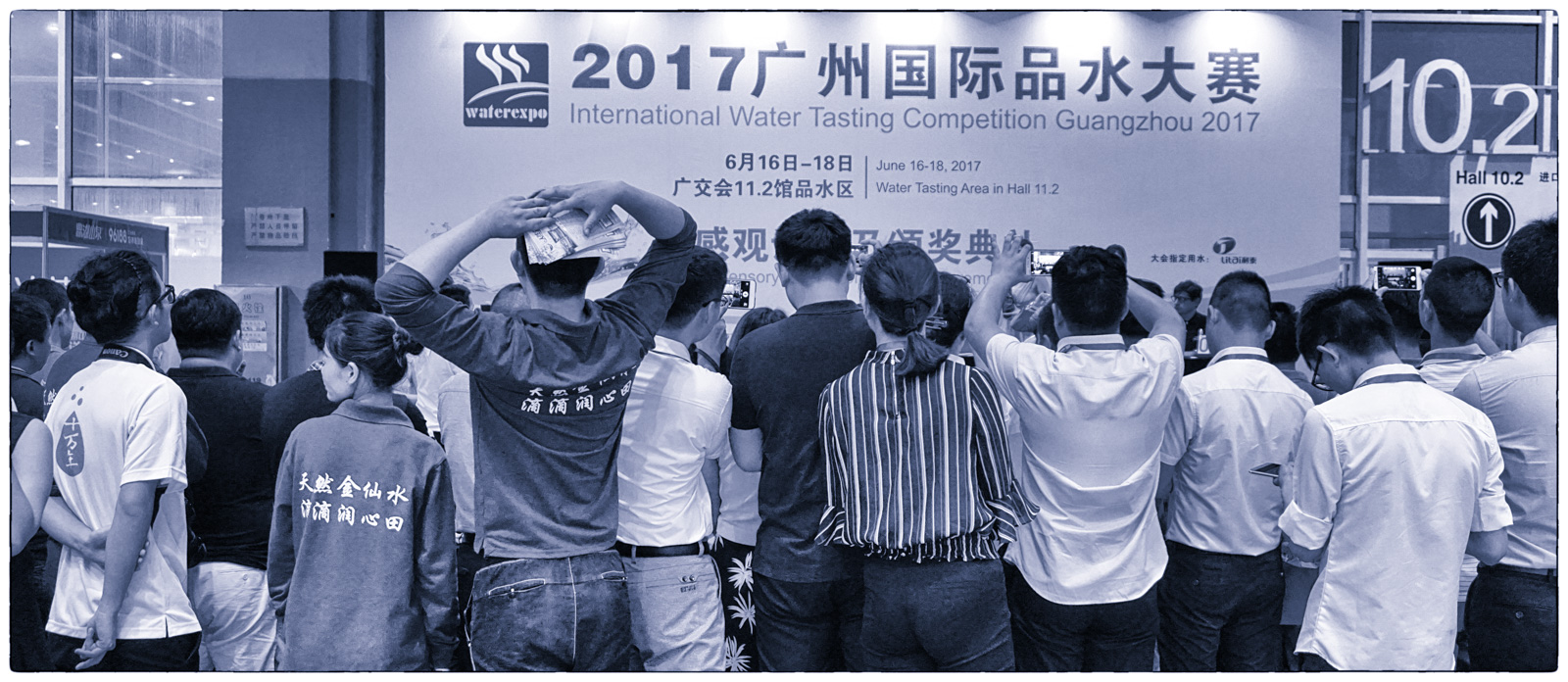 Third International Fine Water Tasting Competition in China with renowned Water Sommeliers
FineWaters (finewaters.com) and the Fine Water Society in collaboration with the WaterExop Guangzhou (Canton Fair Complex) conducted the third International Fine Water Tasting Competition in Guangzhou, China on June 16th, 2017. In modern commerce Guangzhou (romanised Canton), is best known for its annual Canton Fair the oldest, highest-level, largest trade fair in China. For three consecutive years 2013–2015, Forbes ranked Guangzhou as the best commercial city on the Chinese mainland.
Due to large-scale contamination and a general distrust of municipal water sources, bottled water has become very important in China and the trend of Premium Waters shows a strong and consistent growth in China. The trend is supported by the rise of a middle class with an international taste.
We have seen in the past many attempts to conduct water tastings but none have risen to a standard that represents the category of Fine Bottled Water. Water like wine deserves attention and the water tasting conducted in Guangzhou puts water on the same level as wine with a 5 judge professional panel consisting of international water sommeliers, meeting for the first time at the tasting.
GÖTZ GRAEBER (China), Water Sommelier
JASON KUOK (Macau), Water Sommelier
MICHAEL MASCHA (USA/Austria), Creator and publisher of FineWaters.
MARTIN RIESE (USA/Germany), Water Sommelier
PETER SVENNINGSEN (Denmark), Chocolatier
Fine Water is not just water. It has terroir, comes from a real place and has character. Representing the Fine Water Category FineWaters and the Fine Water Society developed the blueprint for conducting water tastings that will be become the future professional standard and only tastings adopting the standard will be sanctioned by the Fine Water Society..
STILL waters a separated into categories according to the Minerality (TDS – Total Dissolved Solids) starting at a SUPER LOW Category (<50mg/l) usually consisting of Iceberg, rain or glacial waters. The LOW Category (< 250mg/l) holds usually the most waters from sources like springs and artesian. For waters with a higher Minerality are the MEDIDUM CATEGORY (<800mg/l) and the EXOTIC SOURCES CATEGORY (deep sea, fruits, …)
SPARKLING waters are represented by the ADDED CARBONATION Category for waters with have artificially added carbonation, most sparkling waters are in this category. The waters in the NATURALLY CARBONATED Category are rare and few people are actually aware that there are waters with naturally occurring carbonation.
With Fine Waters the bottle design represents the brand and connects the consumer emotionally to the source of the water. The bottle is an important aspect of a story told in PET or GLASS and awards are given in each Category for the design.
104 entries participated in the various categories of competition in 2017 up from 70 last year.