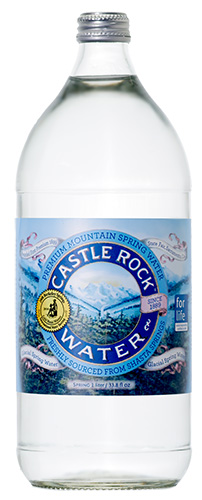 Castle Rock Water Analysis:
Balance
Still & Light
Virginality
Superior
Minerality
Low
Orientation
Acidic
Hardness
Slightly Hard
Vintage
 
Carbonation
 
 
 
TDS
100 mg/l
ph factor
6.6
Hardness
48 mg/l
Nitrate
0.2mg/l
Calcium
11 mg/l
Magnesium
5 mg/l
Sodium
7 mg/l
Potassium
2 mg/l
Silica
ND
Bicarbonate
54 mg/l
Sulfate
ND
Chloride
3 mg/l
 
| | |
| --- | --- |
| Source: | Spring |
| Location: |   |
| Country of Origin: | USA |
| Region: | Siskiyou County |
| Place: | Mossbrae Falls |
| Established: |   |
| Company: | Aviva Beverage, LLC  |
| Status: | Non-Member of the Fine Water Society |
| Web Site: |   |
| phone: |   |
| email: |   |
| Social Media: |   |
Crowned with eternal snow, Mt. Shasta soars to an altitude of 14,162 feet, making it fifth highest elevation of any peak in the continental USA. The surrounding landscape is blessed with miles of primeval forests, pristine rivers, and cascading waterfalls.
 In the late 1880s, the construction of the new Central Pacific Railroad brought a fresh wave of lumber workers, mountaineers, and gold seekers to the area. Folklore has it that Canadian baron Alexander Dunsmuir arrived at the railway stop and was immediately struck by the region's natural grandeur. He promised to build the settlers a foundation – if they would name the town in his honor. Subsequently, the tiny town of Dunsmuir was established in 1886 and began to attract visitors who marveled at the towering mountain and the promise of its rejuvenating glacial water.
The source in the caves of Mount Shasta is located at 3000 ft and are behind the green mossed stone walls. Two stainless steel doors protect the springs and the spring water that comes flowing out of these stone cracks. From the carbon dating we know that the water is at least 100 years to 10.000 years old and from the oxygen isotopes and we also know that the water comes from the 7000 ft snow and glacier level. Two pipes lead out of the caves and feed the FDA certified bottling by gravity.
The spring is owned as a joint project between the community, the city of Dunsmuir and a non-profit religious association who own the land where the springs sit on. The Building our plant is in used to be a run-down building that sat empty for around 15 years. While owned by the city, Castle Rock fixed it and made it into a modern FDA approved bottling plant and we are currently renting the building from the city.