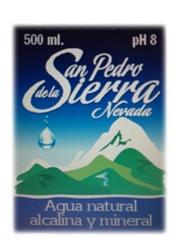 San Pedro de la Sierra Nevada Water Analysis:
Balance
Still
Virginality
 
Minerality
 
Orientation
Alkaline
Hardness
Slightly Hard
Vintage
 
Carbonation
 
 
 
TDS
 
ph factor
8
Hardness
57 mg/l
Nitrate
 
Calcium
5 mg/l
Magnesium
11 mg/l
Sodium
9 mg/l
Potassium
2 mg/l
Silica
 
Bicarbonate
75 mg/l
Sulfate
6 mg/l
Chloride
 
 
| | |
| --- | --- |
| Source: | Spring |
| Location: |   |
| Country of Origin: | Colombia |
| Region: | Magdalena |
| Place: | San Pedro de la Sierra |
| Established: | 2019 |
| Company: |   |
| Status: | Non-Member of the Fine Water Society |
| Web Site: |   |
| phone: |   |
| email: |   |
| Social Media: |   |
The source is located in the surroundings of the town of San Pedro de la Sierra, at 1,400 meters above sea level, in the midst of pristine forests, located between of the mountains of the Sierra Nevada de Santa Marta. Those are the highest coastal mountainous formation in the world, with two snow-capped peaks of 5,775m altitude called the Cristóbal Colón peak and the Simón Bolívar peak.  The proximity to the Caribbean Sea with its condensed humidity and permanent rainfall on the  snow-capped peaks an exuberant vegetation characterizes the region that surrounds the spring.
There are still descendants of the native culture, with around 70,000 Tayrona indigenous people, of the Kogui, Arhuaco, Kankuamo and Wiwa ethnic groups in the area. For them, the snowy peaks are considered the center of the world, from that perspective, they are responsible for caring for and preserving the world, trying to ensure that the "cosmic cycle" has a good development, so that diseases do not destroy life of the men, so that the harvests are good ...
One day, Ignacio Zambrano was touring the mountains and he could smell and hear a spring. He could not resist the desire to drink the water that gushed from the Mother Earth. He began by filling his "special and tasty" water into jars and plastic containers, which he kept for days in the fridge, to drink happily in the city. He began to study about water and became a connoisseur of the subject. He ordered the first microbiological tests and realized the gift in his hands and a desire to share the water.
The Name or Brand and the "naive" or primitivist design that was chosen as a reference to the history and the indigenous culture that honors the water and the sanctuary that for them represents the Sierra. The name is as long as its history.
The San Pedro Water of the Sierra Nevada is unprocessed and bottled at the source.