Aqui-Live Water Analysis:
Balance
Still & Light
Virginality
Superior
Minerality
High
Orientation
Alkaline
Hardness
Very Hard
Vintage
2,000 years
Carbonation
 Added
 
 
TDS
1,300 mg/l
ph factor
8.3
Hardness
528 mg/l
Nitrate
0.008 mg/l
Calcium
64 mg/l
Magnesium
92 mg/l
Sodium
190 mg/l
Potassium
3 mg/l
Silica
47 mg/l
Bicarbonate
300 mg/l
Sulfate
47 mg/l
Chloride
450 mg/l

Aqui-Live is a Member of the Fine Water Society
| | |
| --- | --- |
| Source: | Artesian |
| Location: |   |
| Country of Origin: | Australia |
| Region: | Victoria |
| Place: | Red Hill |
| Established: | 2015 |
| Company: | Aqui-Live |
| Status: | Active |
| Web Site: | www.aqui-live.com.au |
| phone: | +61 417 766 164 |
| email: | This email address is being protected from spambots. You need JavaScript enabled to view it. |
| Social Media: |    |
Aqui-Live is a natural mineral water sourced in the Paleolithic Basement, a 700m deep aquifer on the Mornington Peninsula of Victoria, in Australia. Hydrologists estimate this pre-historic water catchment to be 600 million years old. Aqui-Live is an ancient water which rises naturally to surface, taking more than 2,000 years to complete its journey. The artesian water is harvested at the surface, without the use of bores or drills. Throughout this journey to the surface, Aqui-Live gets filtered by 700 meters of un-touched soil and rocks. This results in a superior Virginality with only 0.008 mg/l of nitrate.
On its long journey, Aqui-Live is also infused with a large number of minerals from the geo-strata and that is what gives Aqui-Live such a unique taste profile. Due to the high minerality this is a water with character and a memorable bold taste with a creamy sensation.
Aqui-Live is a family business owned and operated by husband & wife team, Olaf & Dayle. In 2012 they bought a small acreage property in Red Hill, a winery area 85 km outside Melbourne. Soon after they noticed water was streaming out of the ground. No thought was given to the water until they noticed an abundance of wildlife flocking to the overflow.
Although it had been recorded that there was a spring on their land, no previous owners had ever investigated the properties of the water. In 2014, Olaf & Dayle started extensive testing of the water, which revealed an outstanding mineral composition. In 2015, they left their full-time jobs to devote themselves to bringing Aqui-Live to public awareness. Following European standards, they built a bottling plant on-site and started bottling Aqui-Live by harvesting the natural overflow of the artesian source.
Virtual Site Visit
#FineWatersPairings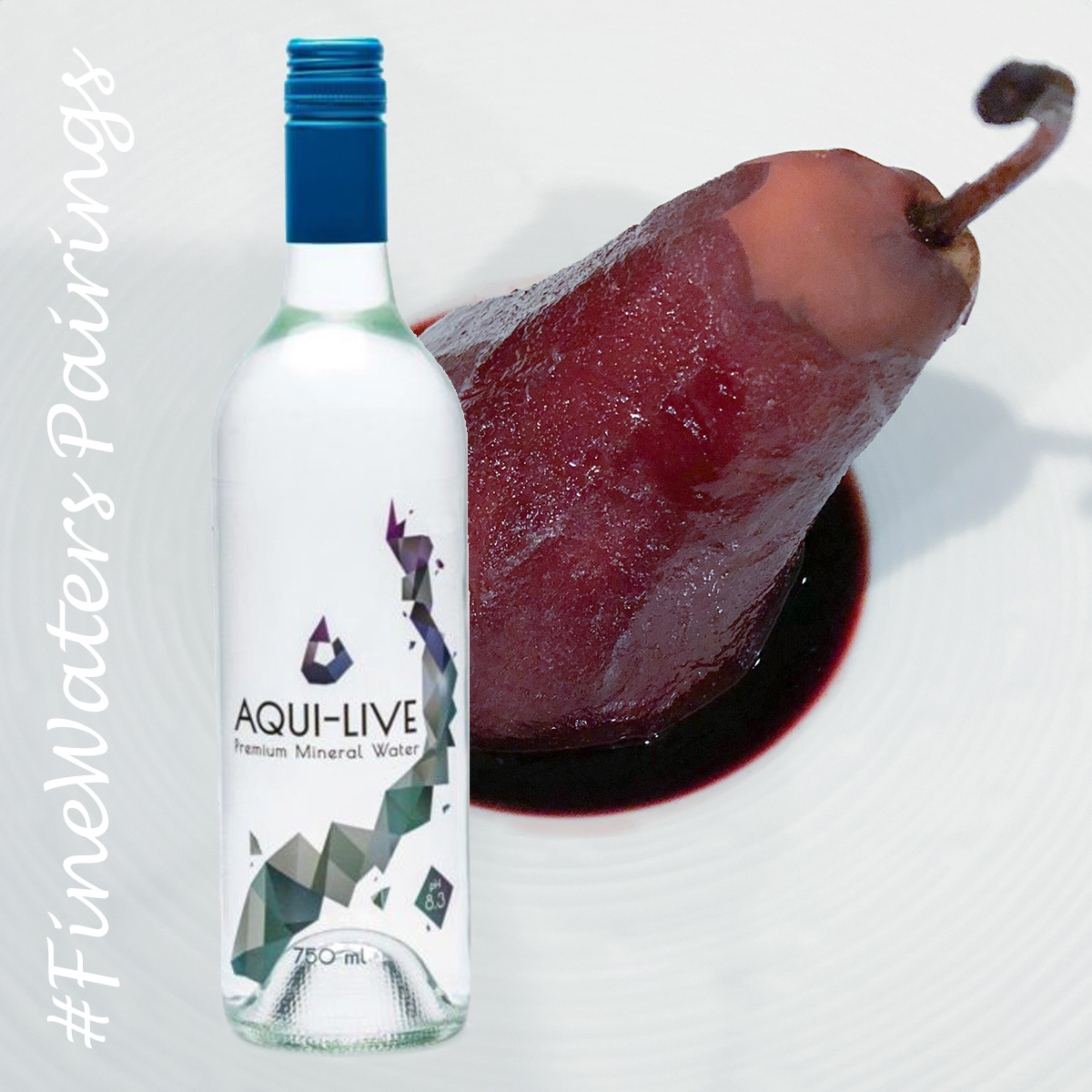 Pear poached in sweetened red wine with spices (cinnamon, clove, star anise, ..) is a classic winter dish and initially I wanted a Super Low Minerality water to contrast the full deep sweet flavors of the dish. The dish just overwhelmed the water so I matched the complexity with Aqui-live @aqui_live a High Minerality water from Australia and it worked in a very unique experience due to the sweetness of the dish and the flavor of the water.
Awards