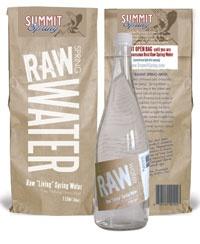 Natural Spring Water to be Bottled Straight from the Ground Without Filtration or Treatment. 
State of Maine Grants Unprecedented Waiver Based on Detailed Water Analysis of Centuries-Old, Rare Free-Flowing Spring. 
Summit Spring, the bottled water company based out of the small town of Harrison, Maine, has announced the release of RAW WATER, bottled directly from the source without any filtration, treatment, pumps or boreholes used in the process whatsoever.
"It's not every day that the little guy gets to make such a big step," commented N. Bryan Pullen, President of Summit Spring Water. "The fact that the State of Maine will allow this product on the market, with absolutely no filtration, is unprecedented and speaks to the sanctity of our historic source.
Summit Spring gathers its water from one of the oldest and most revered natural free-flowing springs in North America, and has been celebrated for its uncommon purity since the beginning of its recorded history in the late 1700's.
The glass bottle is then placed immediately into a recycled-content brown paper bag lined with wax, to protect it from sunlight's corruption and spoiling, further preserving the taste and clarity of the water inside.
"There are naturally occurring nutrients in 'living' spring water, such as microscopic algae, potassium, sodium, magnesium and calcium that are routinely being stripped out of bottled water through treatment, reverse osmosis and filtration. When water comes straight from the ground it has nourishing qualities that are not present in purified and treated water. The centuries old reputation of Summit Spring water as a 'healing tonic', in addition to extensive and continuous analysis allowed the regulatory agencies to give this unprecedented approval", notes N. Bryan Pullen, President of Summit Spring Water.
Summit Spring Water is one of a select few bottled waters to carry the State of Maine Premium Grade designation, meeting the very stringent quality and testing guidelines developed by the Maine Department of Health and Human Services.
This revolutionary product will feature a very unique packaging concept, with language denoting the great care that has been taken to protect and preserve the integrity of Summit Spring, making it possible to deliver raw water of this quality to consumers and is in response to growing worldwide concern about raw food, natural products, chemical treatments and disease.
RAW Water bares no nutrition label, as there is none required by the U.S government for 100% spring water that is pure, natural, untouched and untreated.